Staying physically active is important for your health at any age. The Centers for Disease Control and Prevention recommends that adults age 65 and older aim for at least 150 minutes of moderate-intensity aerobic physical activity a week and at least two days a week of muscle-strengthening activities.
However, as we grow older, chronic health conditions or mobility issues may make it more difficult to stay active. The good news is that there are plenty of ways for seniors to exercise that are gentle on the joints. Check out these six-low impact exercises that are perfect for seniors.
1.
Walking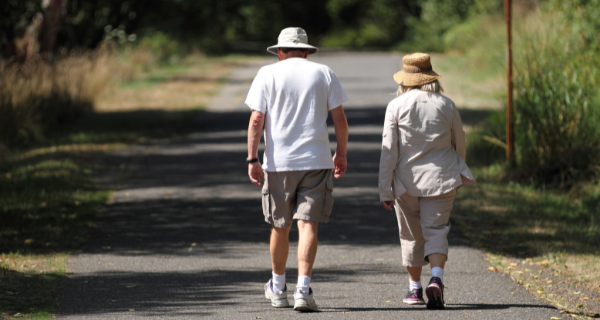 Walking is a great option for many seniors, as it's easy to do without needing special equipment other than a comfortable pair of shoes. The Mayo Clinic says the benefits of walking include:
Maintaining a healthy weight
Preventing conditions such as heart disease, high blood pressure, and type 2 diabetes
Strengthening bones and muscles
Increasing energy levels
Additionally, research indicates that brisk walking may improve brain health and memory in seniors with mild cognitive impairment.
Walking is easy to fit into your schedule ― even if it's just 15-20 minutes a day ― and it's a great way to enjoy the scenery around you or relax while listening to music while you stroll.
Related: Simple Ways You Can Help Keep Your Mind Sharp >>
2.
Water Exercises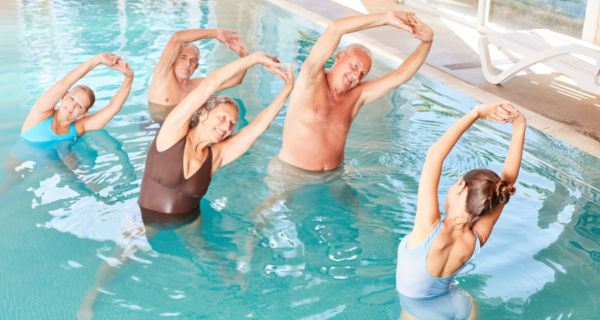 Water exercises like water aerobics and swimming offer lots of benefits and are a popular choice among seniors because of the ease of use and low risk of injury. The CDC reports some of the advantages of water exercises include:
Improved health for people with diabetes and heart disease
Decreased risk of developing chronic illness
Improved bone health in post-menopausal women
Improved mental health
You can do water exercises on your own or with a group. In addition to swimming using different strokes, you can try water walking, stretching, and even resistance training. Check out this resource from seniorsmobility.org for more detailed information and videos on various water exercises you can try.
3.
Stationary Biking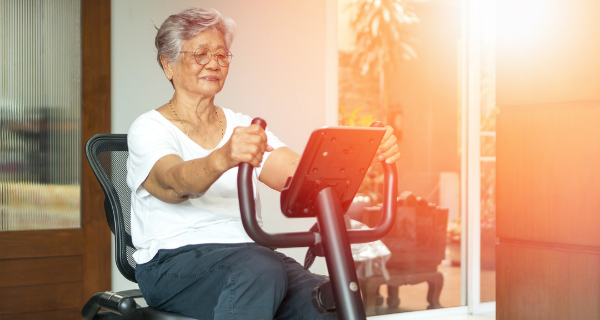 Stationary biking is another low-impact exercise you can do to elevate your heart rate. According to Penn State PRO Wellness, some of the top benefits of a stationary bike workout are:
Improved memory and brain functioning
Lower blood pressure
Stronger immune system
Stronger legs and lower body muscles
Lower stress levels
Stationary bikes don't take up much space, so you can put one in your home or apartment and enjoy this mode of exercise all year round. Or, you can always find one at your local gym or fitness center. An added bonus – a stationary bike is a safer alternative to road cycling.
4.
Resistance Band Training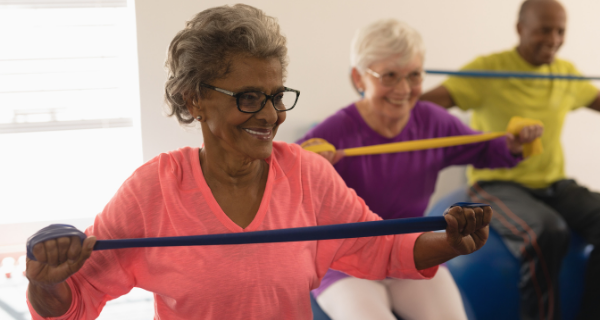 For seniors looking for strength training options, resistance bands offer convenience and versatility. There are a wide variety of exercises you can use to strengthen multiple muscles in your upper and lower body.
Resistance band exercises are popular for several reasons:
Cost effective - resistance bands are relatively inexpensive
Portable - you can exercise with resistance bands virtually anywhere
Easy to do - exercises are simple and easy to learn
You can do resistance band exercises while either seated or standing, and depending on what muscles you want to strengthen, you can use your arms, legs, or both to complete each exercise. Check out this article from Livestrong to learn three useful exercises you can do with a resistance band.
5.
Chair Yoga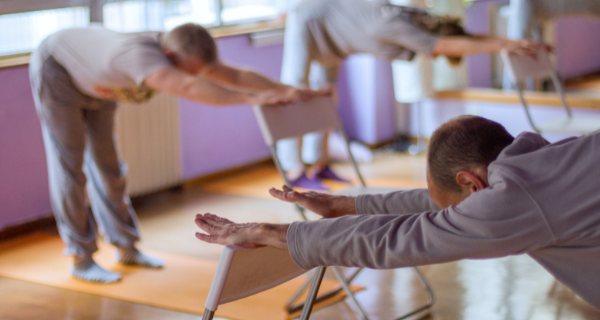 Chair yoga is another way seniors can help tone and strengthen their muscles while seated, and it's a great option to help restore or build flexibility and balance. According to Dailycaring.com, the benefits of chair yoga include:
Reduced stress and anxiety
Lower blood pressure
Better strength and balance
Improved circulation
There are few limitations for seniors while doing chair yoga exercises, but as with any kind of exercise, you can adapt it to match your own physical capabilities. This article can show you how to do seven chair yoga poses, along with example videos and step-by-step instructions.
Related: 5 Scientifically-Proven Ways for Seniors to Relieve Stress >>
6.
Tai Chi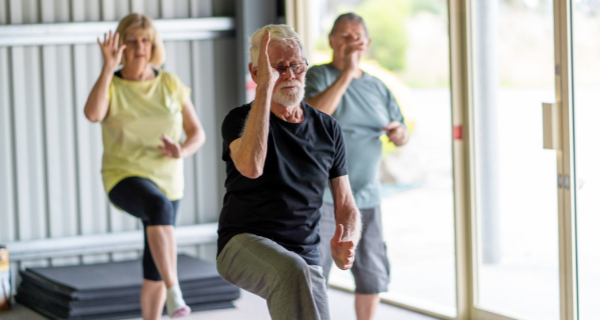 Tai Chi is an ancient Chinese martial art that involves slow, gentle movements coordinated with mental focus, breathing, and relaxation. It is especially useful for seniors because it can help improve balance and stability, particularly for those with conditions such as Parkinson's disease, osteoarthritis, and fibromyalgia.
According to the National Center for Complementary and Integrative Health, research suggests that some benefits of Tai Chi are:
Reduced falling and fear of falling
Improved quality of life and mood
Reduction in pain in due to osteoarthritis
Boost in brain functioning and reason
Tai Chi can be done at home or in groups, and you can do it either standing or seated. Exercises and routines vary in length and can be adapted according to your abilities. Check out these three beginner Tai Chi videos for seniors.
Related: Helpful Tips to Relieve Arthritis Pain Naturally >>
More Lifestyle Tips for Seniors and Caregivers
If you found this article helpful, you can check out more on The Bristal Blog. There, you'll find resources on a variety of topics, from Alzheimer's and memory care, to caregiving and family, to lifestyle and travel.