Selling your house can be an overwhelming experience for anyone, but it can be especially emotional for older adults. Downsizing and organizing the home you've likely collected a lifetime of memories can sometimes be a physically and mentally draining process.

Important decisions will need to be made. You'll often have to figure out what to do with everything if you're downsizing to a smaller home, apartment in an assisted living community, or elsewhere. Once that task is completed, you'll need to prepare your home to sell.

This blog will highlight some helpful tips on downsizing, as well as advice on how to prepare your home for sale.
Downsizing Tips for Seniors
Create a downsizing plan. Determine how much time you have to go through all of your belongings. Set a goal where you regularly tackle one area of the house each day or every few days.

It's helpful to establish a time limit to avoid feeling overwhelmed, and it's also more manageable when you start with a smaller area with less clutter, like a spare bedroom. Then, work your way up to more challenging spaces.


Sort your items into categories. Place it into categories for donating, discarding, selling, or keeping as you go through your stuff. This method will assist you in staying organized and on task.


Consider hiring a senior move manager. You may find that downsizing is simply too significant a project to tackle alone. Hiring a senior move manager may be a game-changer in your downsizing process. Senior move managers specialize in downsizing moves to senior living communities, so they understand the emotional and physical toll such moves can have on older adults.

They can help you decide what to take to your new home and guide you through the process of downsizing. And senior move managers can even work with movers to coordinate your move, including packing and unpacking, so everything is in place when you settle in your new home.


Read More: Tips for Decluttering and Downsizing >>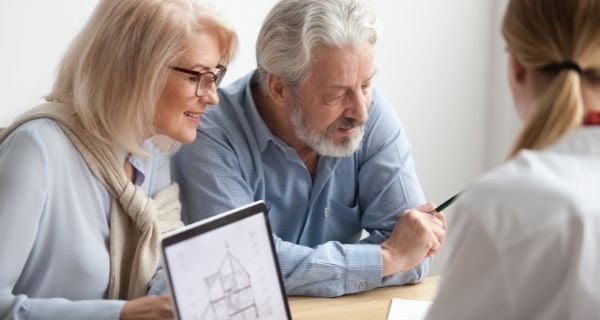 Helpful Ways to Prepare Your Home to Sell
1. Get Organized.
Create a timeline and keep a folder with all your lists, notes, and phone numbers for your real estate agent, utility companies, maintenance specialists, and more. Set realistic expectations and determine if you need to seek guidance with the prep work.

If you're moving to an assisted living community, ask the move-in coordinator for information on setting up any cable or Internet services. Find out what documentation you'll need to provide ahead of your move, and make sure you know if there's flexibility with your move-in date should plans change. Don't hesitate to lean on the community's team for assistance in managing your move.
2. Eliminate the Clutter
In your downsizing process, you'll want to remain focused on decreasing the clutter in your home. Your buyers should be able to see the spaces and begin to visualize where their personal belongings and furniture might go.
Senior move managers are especially helpful with this step. They can help you decide what to keep and what to get rid of, and also recommend resources on where to sell or donate those unwanted items.
Remove excessive yard decor and debris outside of your home. Tackle bedrooms, living areas, and the kitchen inside your home. Start with flat surfaces by clearing floors, tabletops, and furniture.
Then, move on to address the hidden areas that will be opened by potential buyers, like your closets, kitchen cabinets, and other storage areas. Consider removing furniture that impedes traffic flow or overpowers a room. You want to present your house as tidy, clean, and orderly.
Read More: Downsizing to a New Home: Suggestions for Seniors >>
3. Make Repairs
Once the clutter is gone, evaluate if any items need repair. Do cabinet drawers and doors stick? Are the appliances (water heater, A/C units, etc.) in proper working order? Does the faucet drip?
Hire a professional for any necessary repairs so you have documentation of what was done. Buyers prefer homes that are in move-in condition and don't hint at neglect. Do enough to show it has been cared for over the years to bring you the best sale value.
4. Do a Deep Clean
When everything is in place inside your home, do a deep clean of your entire house. This is where a professional cleaning company can be beneficial. You might want to include cleaning or replacing rugs and stained or outdated carpet. Washing the windows inside and outside can also make a big difference.
5. Focus on Curb Appeal
Do the trees or shrubs need to be trimmed? Does the house need to be painted or power-washed? Paying professionals to improve the exterior of your home may be worth the additional expense.
Take an extra step and add a new welcome mat, set out a flower pot, or hang a wreath on the front door. Curb appeal can make a great first impression on your buyer.
6. Be Ready
Now that the house is ready for sale, it's important to keep it that way. You will need access to your everyday necessities, so arrange these items so that they are easily accessible while the house is on the market.
Develop a plan to keep it neat and ready to be shown. You don't want all your efforts to be negated by new clutter. Consider setting up a weekly housecleaning with a local company to ensure your house is always looking its best.
Realtors recommend that to get the best sale price, the home should be clutter-free, have curb appeal, and leave the prospective buyers with an excellent first impression. Start early, have a plan, and seek assistance if needed. You'll get your home ready for sale with a lot less stress.
Additional Resources on Moving to Assisted Living
To read more about transitioning to assisting living, check out The Bristal blog. You can learn how to financially prepare for a move, talk to your parent about assisted living, pay for assisted living, and more.