With the arrival of autumn comes the opportunity to enjoy delicious seasonal fall ingredients once again.
At The Bristal Assisted Living, one of our residents' favorite ways to enjoy this time of year is through our Taste of the Season program, in which we highlight recipes featuring seasonal ingredients.
We're sharing some of our favorite Taste of the Season recipes in this blog (complete with downloadable PDFs), provided courtesy of our registered dietitian, Alaina Hoschke.
Homemade Applesauce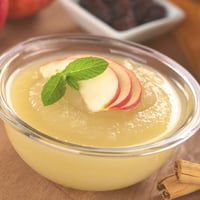 Apples are one of the most popular fruits. They are especially tasty during their peak season, autumn. Apples are among the top five fruits produced around the world. According to Hoschke, they're also a great source of fiber, phytochemicals, and vitamin C.
Did you know? It takes the energy of 50 leaves to produce one high-quality apple with the right size and color
Ingredients
6 lbs Golden Delicious apples, peeled, cored, and cut into 8 slices each
1 cup apple juice or apple cider
Juice of 1 lemon
½ cup brown sugar, packed
1 tsp cinnamon, more or less to taste
½ tsp nutmeg, more or less to taste
Instructions
Combine all ingredients in a large pot and cook over medium heat, stirring occasionally, for 25 minutes. All apples should be softened.
Carefully puree in a food processor or blender until smooth (split into multiple portions if needed). Chill in the fridge until ready to serve.
Download printable PDF of Homemade Applesauce recipe here
Pumpkin Energy Bites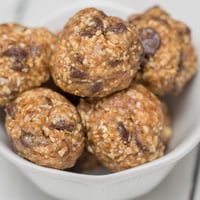 Pumpkin is the quintessential fall flavor. It's also very good for you! Hoschke notes that pumpkin is rich in vitamin A in the form of beta-carotene, which gives it its bright orange or yellow color. It's also an excellent source of vitamin C and potassium, among other vitamins and minerals.
These pumpkin bites are a great on-the-go snack and are packed with pumpkin pie flavor.
Did you know? ½ cup of pumpkin provides over 200% of daily vitamin A needs.
Ingredients
Makes about 45 balls.
3 cups old-fashioned oats
¾ cup chopped pecans or walnuts
¾ cup almond or peanut butter
¾ cup + 2 tablespoons pumpkin puree
6 Tbsp maple syrup
3 tsp vanilla extract
3 tsp ground cinnamon
¾ tsp ground nutmeg
¾ cup milk chocolate chips
Instructions
In a food processor, place half of the oats, the chopped pecans, nut butter, pumpkin puree, maple syrup, vanilla extract, and spices. Pulse two or three times, until well combined.
Transfer the dough into a large mixing bowl. Add the remaining oats, the mini chocolate chips, and stir well.
Using a cookie scoop or your hands, shape and roll the dough into balls.
Chill in the fridge for at least one hour.
Download printable PDF of Pumpkin Energy Bites recipe here
Cauliflower Fried Rice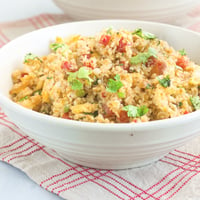 Hoschke maintains that cauliflower rice not only tastes similar to white rice but also gives an indistinguishable visual appearance. By replacing rice with cauliflower, you will also increase your daily vegetable intake.
This cauliflower fried rice recipe is a healthy, low-carb, low-calorie dish that tastes just as delicious as the original.
Ingredients
Vegetable oil as needed
2 large eggs, beaten
1 cup chopped scallions, light and green separated
3 garlic cloves, minced
1 Tbsp finely chopped fresh ginger
2-pound head cauliflower (or 2 pounds ready-to-cook cauliflower rice)
3-4 Tbsp soy sauce (use gluten-free if needed)
1 tsp sugar
1 cup frozen peas and carrots
1 tsp rice vinegar
1 tsp sesame oil
Instructions
Grate cauliflower in a food processor with a grating disc. Alternatively, grate the cauliflower on the large holes of a box or handheld grater. Set aside. (Skip this step if using ready-to-cook cauliflower rice.)
Heat 2 teaspoons of vegetable oil in a large skillet over medium heat. Add the eggs and scramble until the eggs are cooked. Transfer to a small plate and set aside.
Add 3 tablespoons of vegetable oil over medium heat. Add the light scallions, garlic, and ginger, and cook, stirring often, until softened but not browned, 3 to 4 minutes. Add the grated cauliflower, 3 tablespoons of soy sauce, and sugar. Cook for about 3 minutes then add peas and carrots and continue cooking until the cauliflower "rice" is tender-crisp and the vegetables are warmed through. Stir in the rice vinegar, sesame oil, dark green scallions, and eggs. Serve hot.
Download printable PDF of Cauliflower Fried Rice recipe here
Prickly Pear Jelly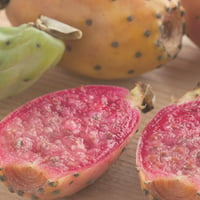 Prickly pear is a hardy cactus that produces an abundance of delicious fruit. Hoschke says, "If you've never dealt with prickly pears, then you should know that its name comes from the fact that handling the fruit can be difficult and hazardous, as its tiny prickles are pernicious."
Jelly made from prickly pear fruit has fabulous color and delicious taste but requires a lot of work and caution to transform it into jelly. It's important to wear thick gloves when preparing prickly pears due to the sharp thorns covering the skin.
Ingredients
20-25 prickly pears
3-½ cups granulated sugar
5 tsp lemon juice
Peels of 2 lemons
Instructions
Slice both ends of the prickly pear off and discard them.
Make one long vertical slice down the body of the prickly pear. Placing your hand between the inside flesh and outer skin, begin to peel back the skin and discard. You'll be left with the prickly pear itself.
Chop into 1-inch cubes and place in a large, heavy pot. Cook over medium heat for 20 minutes, stirring often until the chunks fall apart and you have a soupy, seedy stew.
Run the pulp through a food mill (or sieve or fine-holed colander). Press the liquid and pulp through with the back of a wooden spoon, or use disposable gloves on one of your hands to press the pulp.
Measure the strained prickly pear liquid and any pulp (see tips below). Add as much sugar, lemon juice, and lemon peel as you need:
For every cup of prickly pear pulp/juice that you obtained after passing it through a sieve, add ¾ cup granulated sugar and 1 teaspoon lemon juice.
Add the peel (including the white, pithy part) of half a lemon for every 2 cups of prickly pear liquid. The lemon peel provides pectin so that you get a good gel.
Return the strained liquid to the large pot where you originally cooked the chunks of prickly pears. Cook over high heat, stirring often until the jelly reaches gel point. This can take 40 to 60 minutes.
Remove the lemon peels. Fill clean jars with the prickly pear jelly. Fasten lids and store in the refrigerator.
Meet Our Registered Dietitian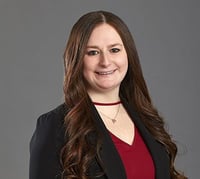 Our Taste of the Season program was created by our registered dietitian, Alaina Hoschke, who enjoys creating healthy, flavorful delicacies that take advantage of seasonal ingredients. This gives her a chance to be creative and, best of all, bring some edible joy to our residents.
"I love being able to know that we are making a positive impact in our residents' lives. I know that we are providing something that others might not, and we certainly do better than others, as well," Hoschke says. "And I love knowing what they are looking forward to when they come down for their meals at lunch and dinner."
In addition to Taste of the Season, Hoschke also serves residents at The Bristal with special dietary needs. Her responsibilities include menu planning for regular and modified diets throughout The Bristal communities, as well as conducting ongoing education for staff and residents.
.