Zoom continues to gain popularity as a way for friends and families to stay connected while social distancing. The cloud-based video conferencing software enables groups to host meetings virtually. Whether you are hosting an online book club or celebrating the holidays with your family, we have curated some fun ways you can level-up your next Zoom get together. Read on to learn more.
Getting Started
Zoom owes its popularity to its cost (base subscription is free), ease of use, and its versatility. A computer with a speaker and microphone – and a webcam, if you want to use the video feature – is all you need. You can also use either an iOS or Android phone or tablet. Wired magazine has a thorough overview to help you get started.
Going Beyond Virtual Hangouts
With a little creativity, and some advance planning, you can make your next Zoom session a fun and memorable event. Here are some fun ideas to help you get started:
A Change of Scenery
Why not host your next Zoom session from Andy's playroom in Toy Story, or from the set of American Idol? You can use any picture that you have readily available – photos from your last vacation, the holidays, etc. There are also plenty of free Zoom backgrounds available. Good Housekeeping has instructions for using virtual backgrounds, as well as links to popular backgrounds from Disney, the Hallmark Channel, Star Wars, and more. Fun twist – see who can be the first person in your chat to guess your "location," or choose a theme for your chat based on a movie, location or hobby.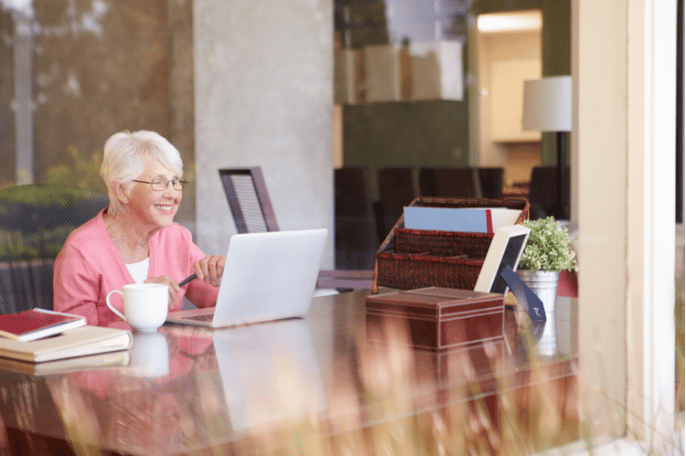 Family Game Night
Social distancing doesn't mean you need to forgo family game night. There are quite a few games – traditional and digital -- that lend themselves well to a virtual format. Here are a few of our favorites that are perfect for the entire family:
Name, Place, Animal, Thing: An old favorite, you will need to use the Zoom chat feature to play. Start by choosing a letter – each player needs to list a famous person's name, a place, an animal, and a thing all beginning with that letter. The first player to enter the list into the chat wins.
Pictionary: Test your drawing (and guessing!) skills with this classic game. You can use cards from the game, or search for an online pictionary word generator, like this one.
Scattergories: A more sophisticated version of Name, Place, Animal, Thing, Scattergories challenges players to name objects within a category based on the letter selected at the beginning of each round. Can be played using the board game, or via an online generator.
Trivia: There are countless trivia games you can play on Zoom, including Trivial Pursuit and HeadsUp.
The Escape Game: Using Zoom and your detective skills, you and your family can work together to escape a digital room.
Looking for more ideas? Check out the Today's show blog.
Book Clubs
If you and your friends are avid readers, hosting a virtual book club is another fun way to use Zoom. Well-known sites like Oprah's Book Club and GoodReads are useful for identifying new authors or trending books that your club can discuss. Most books have discussion guides available online, which you can tailor to suit the needs of your book club. Bustle has an easy-to-follow guide for starting your own virtual book club.
Interested in joining an existing virtual book club? Time magazine has some great recommendations for you to choose from.
Movie Night
Popular before social distancing, group virtual movie nights are easy to host. There are multiple options you can choose from using Zoom or another third-party application. Here are three of the most popular:
Zoom Screenshare: This is exactly what it sounds like. Use the share my screen function, so your group can watch a movie that you have already downloaded, or plan to stream.
Teleparty: Formerly known as Netflix Party, Teleparty allows you synchronize and chat while streaming Netflix, Disney, Hulu and HBO. Everyone participating will need their own Netflix subscription.
Disney+ Watch Party: New to the streaming platform, GroupWatch on Disney+ allows you to stream with up to six friends. Everyone participating will need to a subscription to Disney+.
Special Occasions
The holiday season this year will undoubtedly be different, with many families continuing to social distance. Following are suggestions from Real Simple on how to plan the perfect virtual holiday celebration:
Set the Mood: Create a Spotify playlist and share the link with the group so everyone can enjoy the same music during the meal.
Set the Menu: Decide on a menu in advance and cook together using Zoom. Select traditional family favorites, or try a few new recipes as a group.
Set the Table: Use your imagination – and your fine china. Consider a contest for best-dressed table!
Set the Background: Create special zoom backgrounds for everyone who is participating. Remember to include instructions on how to change backgrounds so everyone is ready to go.
From virtual cocktail parties to indoor scavenger hunts, there are plenty of other creative ways to connect with family and friends using Zoom. The only limit is your imagination!
More Fun and Healthy Activity Ideas
From indoor exercises to ideas for connecting from afar, our blog is full of tips for living your best life. Explore all our articles on the blog here.