"Step into my shoes and walk the life I'm living and if you get as far as I am, just maybe you will see how strong I really am."
— Anonymous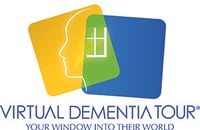 When interacting with someone who is ill, sadly, we often see the illness instead of the person. But if we could look past the illness, we would also see considerable strength.
"Step into my shoes" is exactly what we ask our staff to do at The Bristal, by including The Virtual Dementia Tour ® (VDT®) as part of their sensitivity training at orientation. This insightful program was created by geriatric specialist and founder of Second Wind Dreams®, B.K Beville, MS, to help increase our understanding of the needs and behaviors exhibited by people living with dementia.
The Virtual Dementia Tour offers a more realistic view into the life of a person living with dementia.
You can see most recent Celebrity Apprentice Winner and nationally known TV personality and philanthropist, Leeza Gibbons experience the Virtual Dementia Tour in the video below.
These inhibiting alterations help staff gain a better sense of the physical challenges people with dementia and Alzheimer's face day-to-day.
This experience gives staff a deeper realization and appreciation for just how important their role as a caregiver is. Every day, people living with dementia wake up and start their day, doing the best they can with dignity and grace in spite of such limitations. They have a disease that causes a form of brain damage; yet, they continue to problem-solve to the best of their abilities, which is truly inspiring to witness.
The staff is continually reminded that they must always:
• Engage positively with the person at every interaction.
• Set the stage for success by preparing for each task.
• Provide reassurance as the person works on each task.
• Help by guiding, not controlling, and safely encourage independence.
• Communicate in short simple sentences, one task at a time.
• Encourage the person to participate and do the best they can.
• Put yourself in their shoes.
The staff understands that they can create an opportunity for engagement by removing barriers, recognizing a person's strengths and including those strengths in the tasks. It is much easier for a person to engage and be successful when the right tools and opportunities are presented.