The East Coast of the United States boasts several amazing national parks to explore that offer a range of experiences that are accessible to nearly everyone. Whether you are searching for a challenging hike or prefer to take in the scenic views from your car – there's a national park perfect for you.
In this blog you will find a list of the most popular national parks on the East Coast with a special focus on those with accessible options, which are particularly helpful for those with limited mobility.
Explore National Parks on the East Coast
We'll travel from Maine to Florida, identifying what national parks you should consider visiting along the way. Each national park provides many ways to connect with nature, including accessible options. You'll be able to view the wildlife and discover the natural beauty of the parks at your own pace.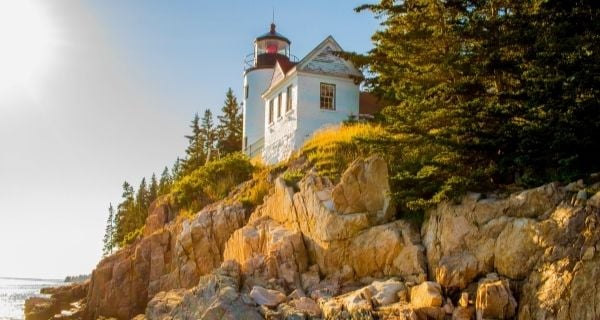 Acadia National Park in Maine
As one of the top 10 most-visited U.S. national parks, Acadia National Park offers visitors 27 miles of historic motor roads, 158 miles of hiking trails, and 45 miles of carriage roads off Maine's rocky coast.
One of the highlights of the park is Cadillac Mountain – the highest point on the Atlantic seaboard and only accessible via the Cadillac Summit Road. Due to its popularity, guests are required to purchase an online vehicle reservation when visiting in the summer or fall.
The three-mile drive to the top offers several scenic spots to enjoy the view safely. You'll also have access to restrooms, a gift shop, and overlooks on paved walks. If you arrive early enough, you can be among the first to see the sunrise in the United States.
If you're looking for another way to see the park outside of hiking trails and kayaking or canoeing, you can set out on Park Loop Road. This 27-mile road, which is mostly closed in the winter, takes you through many scenic places within the park. An audio tour of Park Loop Road is available for purchase on CD at Hulls Cove Visitor Center.
Learn more about Acadia National Park >>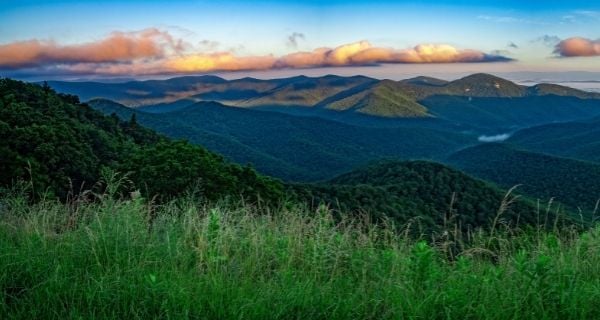 Shenandoah National Park in Virginia
Set in the Blue Ridge Mountains, Shenandoah National Park in Virginia is perfect for those who appreciate variety. You'll discover waterfalls, caves, fields of wildflowers, and wildlife, including some of the densest populations of black bears in the U.S.
With over 500 miles of trails, there is something for everyone — from experienced hikers to older adults and families with young children. The Appalachian Trail incorporates just over 100 miles of the trail system in the park.
Limberlost Trail is a 1.3-mile loop trail that is ADA compliant; however, there are some sections that are a little steep, so use caution. Visitors have ample opportunities to view white-tailed deer, in addition to an impressive variety of birds.
Visitors who wish to enjoy the scenery at a more leisurely pace may want to follow Skyline Drive over 105 miles along the crest of the Blue Ridge Mountains. You'll want to set aside about three hours of your day to complete the entire drive. Watch for wildlife and take advantage of over 70 lookout points on along the route.
Learn more about Shenandoah National Park >>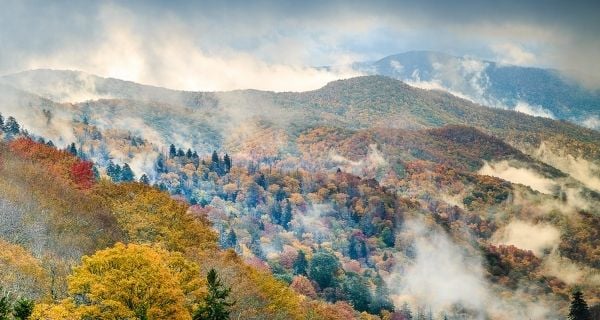 Great Smoky Mountains National Park in Tennessee and North Carolina
Between Tennessee and North Carolina lies Great Smoky Mountains National Park. Like Shenandoah National Park, Great Smoky Mountains National Park offers over 800 miles of hiking trails, but it also has driving loops that provide an immersive experience for those who prefer a more leisurely pace.
Cades Cove provides abundant opportunities to view wildlife, historic homes and churches, and gorgeous mountains. The 11-mile loop can take anywhere from two to four hours to complete and usually moves at a slow pace as visitors spot black bears, turkeys, raccoons, coyotes, elk, and other wild animals. There are several pullouts where you can stop, take pictures, or enjoy a short hike. During warmer months, the loop road is closed to vehicular traffic a couple of days per week – allowing cyclists and walkers to enjoy the beauty of the meadow at a slower pace.
Clingmans Dome is another must-see while visiting Great Smoky Mountains National Park. It's located on the park's highest point and provides 360-degree views of the surrounding mountains. On a clear day, you may be able to see distances over 100 miles away. Clingmans Dome requires a 0.5-mile walk along a steep, paved trail that leads to the observation tower. Benches dot the trail, providing the perfect spot to rest and enjoy the beauty while climbing. Please note: Even though the trail is paved, it is too steep for visitors using wheelchairs.
As the most-visited national park in the U.S., it's best to arrive in the morning on a weekday to avoid the heaviest crowds.
Learn more about Great Smoky Mountains National Park >>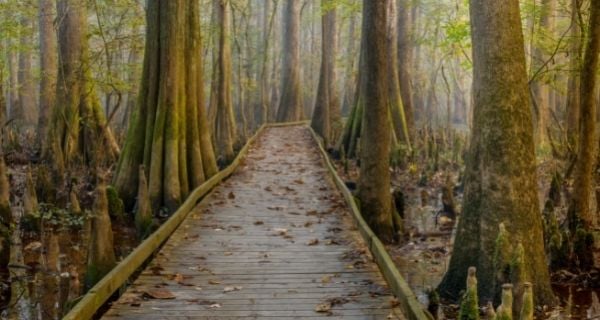 Congaree National Park in South Carolina
Congaree National Park in South Carolina doesn't receive the same amount of attention as Acadia or Shenandoah National Parks, but it is one to add to your list. The park is home to the largest hardwood forest in the southeastern U.S. With waters from the Congaree and Wateree Rivers running throughout the ecosystem, you'll find many options for exploring and taking in this unique wilderness.
The Boardwalk Loop is a great way to see the park's beauty. This 2.4-mile boardwalk winds through the hardwood forest and swampy waters. It offers benches along the way and is accessible to those with wheelchairs or other ambulatory aids.
For an up-close look at the forest and waters, you might consider kayaking or canoeing on Cedar Creek. The canoe trail winds through the wilderness for approximately 15 miles, so you may glimpse turtles, otters, and even alligators. Because the park lies within the floodplain of the Congaree River, it's important to check weather and safety conditions prior to your visit.
Learn more about Congaree National Park >>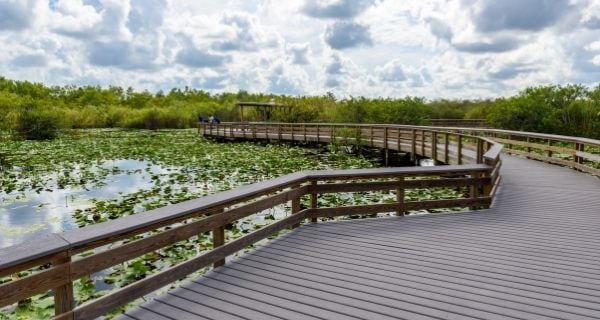 Everglades National Park in Florida
If you're a fan of both alligators and crocodiles, venture south to Everglades National Park — the only place in the world where they live together. Everglades National Park, located in Florida, spans 1.5 million acres of wetlands and is also home to manatees, flamingoes, panthers, and numerous birds.
While you can tour the park by hiking trail, canoe, kayak, or bicycle, a popular way to view the wildlife is by guided boat and tram tours. Visitors can hop on a guided two-hour narrated tram tour that follows a 15-mile trail. There's a sightseeing opportunity during this guided tour where you can walk on a gradual ramp to the observation tower deck, the highest accessible spot in the park.
If you prefer a water view, you might consider a guided boat tour where you can get a closer look at the plant and animal life while learning about the area's history. And to get a sneak peek at the unique park, you can access virtual webcams ahead of your visit. Simply visit this website to discover a multitude of virtual experiences.
Learn more about Everglades National Park >>
Navigate Park Fees and Annual Passes
Some national parks are free to visit, while others have an entry fee. Entrance passes cover the fees for the driver and all passengers to visit national parks, national wildlife refuges, and national forests and grasslands. Adults 62 and older may purchase a senior annual pass for $20 or a lifetime senior pass for $80. Individuals with a permanent disability can request an Access Pass, which is a free lifetime pass. Passes can be purchased at select sites or online.
Plan on paying a daily entry fee at the gate to each national park you visit if you decide not to buy an annual or a lifetime pass. Pass and entry fee requirements vary depending on which park you visit. You'll find fee information by searching for each park on the National Park Service website.
Download the NPS App for Helpful Tools
When you're ready to set off on your adventure to one or more national parks, you might consider downloading the NPS App to your mobile device. This is the official app for the National Park Service, and it's free! You'll find interactive maps, tours, accessibility information, and details of amenities for over 400 national parks.
The NPS App features many tools that are helpful to visitors with accessibility needs. These tools include audio descriptions of exhibits in visitor centers, along trails, and on roads. You can also view the locations of restrooms, utilize self-guided tours, and find information on scenic driving routes and bus tours.
Another important benefit of the app is its ability to be used in remote areas where you have little to no internet access. It's important to plan ahead to best utilize this feature of the app. For example, you'll want to download the desired content before leaving for your hike, in an area where you have good internet access. Simply download the selected content, such as trail guides and park maps, for offline use later.
Discover More Travel Resources from The Bristal Blog
Check out The Bristal's blog for additional information on trip destinations and fun places to visit. You'll find helpful tips and travel recommendations for seniors ready for an adventure in the tri-state area.
Read The Bristal Blog >>