Ranked as the top two diets by U.S. News and World Report, the Mediterranean and DASH diets both emphasize whole grains, olive oil, nuts, and red wine. The Mediterranean diet is more a lifestyle choice and is associated with a decreased risk of cancer and cardiovascular disease, while the DASH diet is typically prescribed to help control high blood pressure.
Seeing the health benefits of both diets, Martha Clare Morris, a nutritional epidemiologist, combined the two to create the MIND diet in an effort to lower the risk of Alzheimer's disease.
What is the MIND diet, and is it something you might want to try? Read more.
What is the MIND Diet?
Introduced in 2015, the MIND Diet (Mediterranean-DASH Intervention for Neurodegenerative Delay) recommends ten foods beneficial to brain health to include in your diet, and five foods to limit.
Foods to include:
Leafy green vegetables

Other vegetables

Berries

Nuts

Olive oil

Whole grains

Fish

Beans

Poultry

Red wine (one glass per day at most)
Foods to limit:

Butter or margarine

Cheese

Red meat

Fried food

Sweets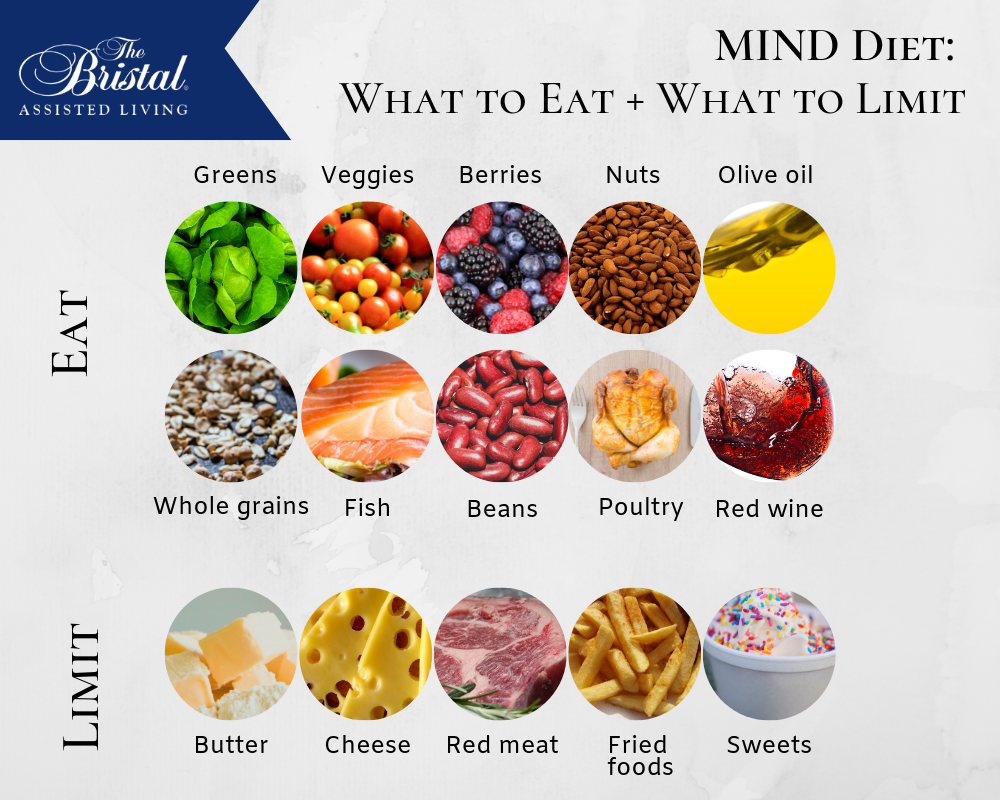 Based on Diet for the Mind by Martha Clare Morris
What Do Studies Show About the MIND Diet?
There have been multiple studies that have shown an association between the MIND diet and a decreased risk for cognitive decline.
One study suggested that people who closely followed the MIND diet had the cognition of a person 7.5 years younger. Data from another study showed that octogenarians who had suffered a stroke and then adopted the MIND diet functioned as if they were 20 years younger.
The eating patterns that formed the basis for the MIND diet are well-researched, too. They're both shown to reduce high blood pressure, decrease the risk of cardiovascular disease, and lower the risk of Type 2 diabetes.
Related: Try these six 'brain foods' for a better memory (they're all part of the MIND diet!) >>
MIND Diet Meal Plan Ideas
The MIND diet is fairly flexible and can easily accommodate food allergies, or ingredients that you don't prefer. Better still, there is no need to sacrifice taste for nutrition!
MIND Diet Breakfast Ideas
Whole-grain oatmeal with blueberries and sliced almonds

A slice of whole-grain toast with almond butter

Scrambled eggs with olive oil, spinach, and red bell pepper
MIND Diet Lunch Ideas
Green salad with grilled chicken, chickpeas, strawberries, and olive oil

Avocado, mashed white beans, spinach, and sun-dried tomatoes on whole-wheat pita bread

Oil-packed tuna with whole-wheat crackers, carrots, and blackberries
MIND Diet Dinner Ideas
Grilled salmon, brown rice, and roasted vegetables

Stir-fry with chicken, brown rice, and your favorite vegetables

Whole-wheat pasta with simple marinara sauce, chicken or turkey meatballs, and a side salad dressed in olive oil
MIND Diet Snack Ideas
Two tablespoons of almond or peanut butter on whole-wheat crackers

Smoothie made with almond milk, berries, and spinach

Hummus with carrots and celery
Experiment with spices and herbs to add extra flavor to your meals. Fresh basil, rosemary, and thyme are all great additions to salads or roasted vegetables, and they don't add extra calories. Cayenne pepper, freshly ground black pepper, and splashes of lemon juice are easy upgrades, too.
Take the Next Step Toward Better Health
It is important to remember that the MIND diet is a framework meant to guide your eating habits, so don't worry if you don't strictly follow it all the time. Small steps toward healthier eating habits will still pay big dividends for your overall health. As always when adopting a new style of eating, or exercising, check with your doctor first.
Improving your eating habits is just one way to benefit your health. Exercising regularly is another important step. Learn more about the benefits of exercise, and get tips for beginning a routine in this blog.