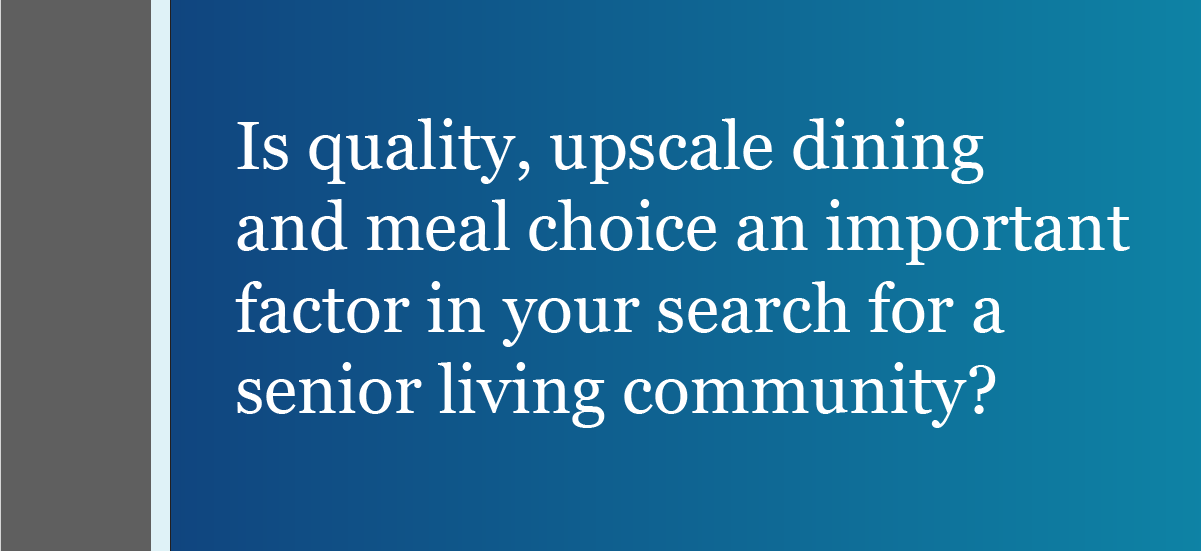 If you answered yes, then you're not alone! Questions about onsite dining options are very common from people interested in our community. So, let's give you a taste of what dining in an upscale senior living community is really like.
Below you will find a sample of some of our most popular dishes, information about our food demonstrations, and learn more about exclusive dining events at The Bristal, all prepared specially for residents by a talented culinary team. As you will see, dining is about more than just food to us ― it's about providing a fun, high-quality experience shared daily among friends.
Sample Menu
Here's a sample of what a daily menu looks like at our communities: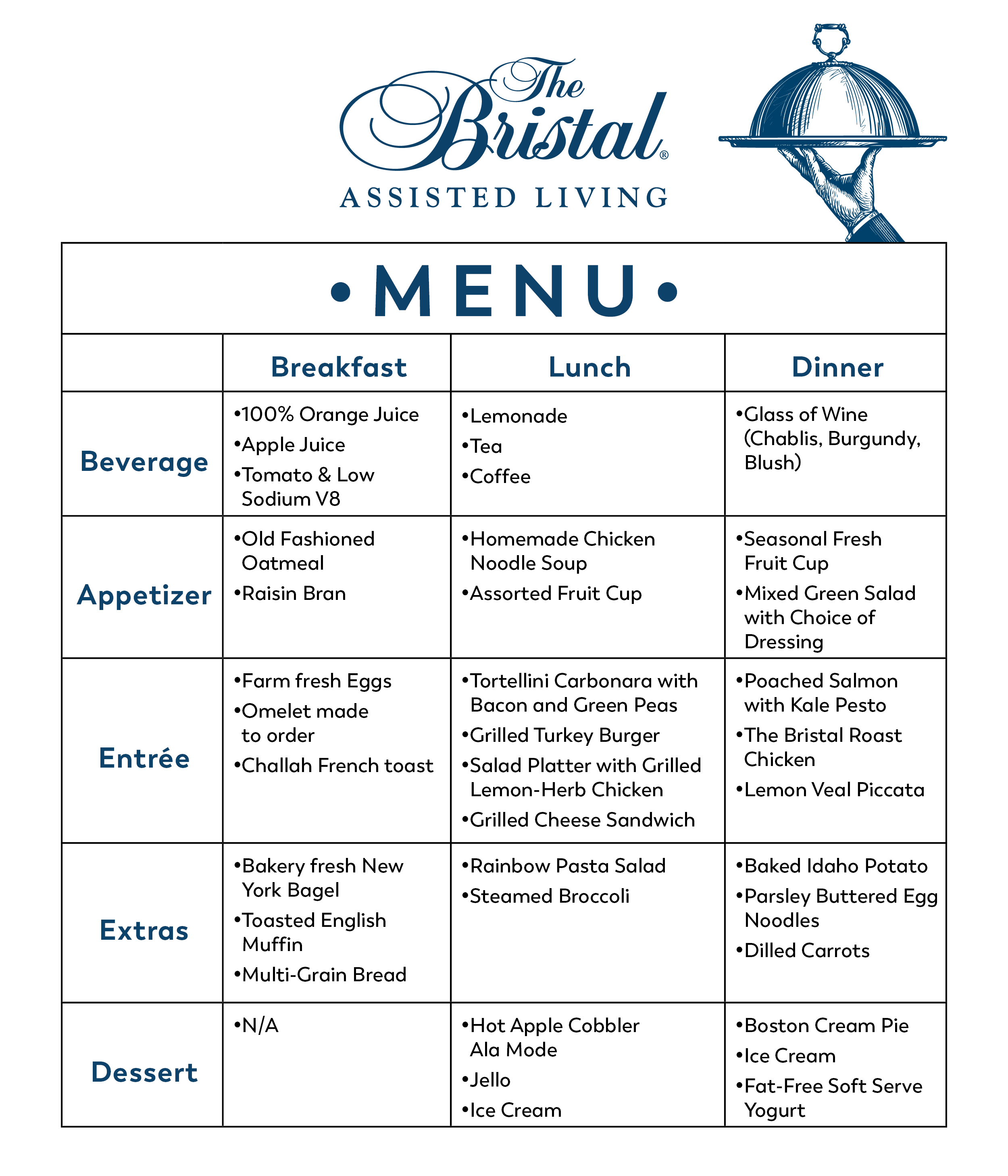 Chef's Demonstrations — Taste of the Season
One of our signature dining programs is Taste of the Seasons, created by The Bristal's registered dietician, Alain Hoschke. This program is ongoing throughout the year and involves sharing fresh dishes made with seasonal ingredients. Here are some examples of recent Taste of the Season featured dishes.
Strawberry Caprese Salad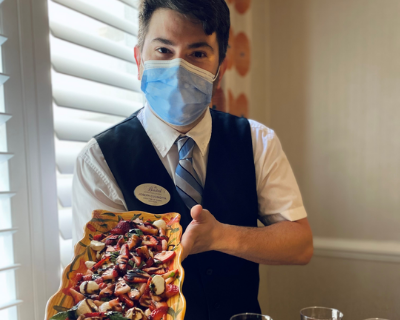 Using farm-fresh strawberries sourced from nearby farms in the tri-state area, our chefs prepared strawberry caprese salad, complete with balsamic glaze, mozzarella cheese, basil, and mint.
To kick off this Taste of the Season event, residents enjoyed a chef demonstration, where they watched the food being prepared in The Bristal's bistro grille. Afterward, they were treated to this sweet and savory dish for lunch.
3 Ways Baked Kale Chips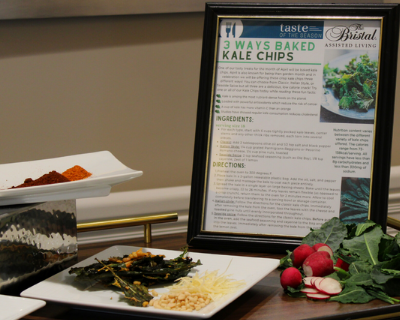 To present garden-fresh produce in a fun way, our chefs prepared fresh kale leaves in three different ways ― classic, Italian style, and seaside spice. Other ingredients used included Parmigiano-Reggiano and Pecorino Romano cheeses, pine nuts, cayenne pepper, and lemon.

For this event, residents were treated to a chef demonstration and later tasted this delicious, low-calorie snack.
Dining Events - Taste of Home Program
A unique program developed by The Bristal, Taste of Home celebrates the diversity within our communities through food. Residents are encouraged to submit their favorite recipes — like a recipe that has been in the family for generations. The Director of Food Service then selects recipes to feature during a demonstration or meal. It is a wonderful way for residents to share their culture, history, and memories, while enjoying some truly delightful dishes with their neighbors.

Here's a recent example of one of our Taste of Home featured dishes.
Marge's Banana Bread Recipe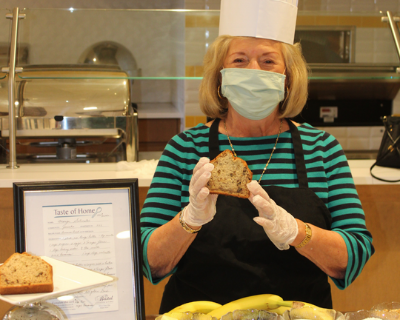 Marge, a resident at The Bristal at Jerico, submitted her recipe for homemade banana bread, which features mashed bananas and chopped walnuts. The Director of Food Service asked Marge to join him in preparing several loaves during a demonstration that were baked and then shared with her fellow residents.

Ingredients
1 stick room temperature butter
1 tsp vanilla
1 cup sugar
2 eggs, beaten
2 ¼ cup flour
1 tsp baking soda
8 Tbsp milk
2 or 3 ripe bananas - mashed
1 cup chopped walnuts

Directions
Mix softened butter with sugar, then add 2 beaten eggs.
In another bowl, mix flour and baking soda, then add milk and mashed bananas.
Combine with butter and egg mixture.
Add walnuts and mix well.
Pour into a greased loaf pan.
Bake at 350 degrees for 50 minutes until golden brown.
Great served with cream cheese.

Specialized Diets
The Bristal recognizes that mealtimes can present a challenge for individuals with special dietary needs. Our food services team has received extensive training in how to prepare various modified diets — enabling residents to enjoy a dining experience similar to other residents, while having their nutritional needs met. Therapeutic diets offered include no added salt (NAS), no concentrated sweets (NCS), lactose-free (LF), and gluten-free (GF). Mechanically altered diets include soft-to-chew, chopped, ground, and pureed.

Resident-Inspired Dining at The Bristal
The goal of our delicious, chef-prepared cuisine at The Bristal Assisted Living is always simple ― to keep our residents happy and healthy. In fact, we regularly seek out resident feedback on the menu and meal choices.

Through monthly Food Committee meetings, a group of representatives meet with the community's chef to discuss their likes and dislikes, and offer ongoing feedback for the menu. It's a great experience for the residents and the dining staff, who all share the same passion for food and fun.