Moving into a memory care community can be stressful for both you and your loved one. According to CaringKind, it's common for feelings of agitation, anger, and sadness to surface during and after the move.
Having a plan for what items you should include while packing can help ease the transition and make a real difference in your loved one's comfort level.
Every memory care community will have its own set of guidelines for what items are acceptable, and those that are not. Discuss with the Director of Community Relations before the move, so there are no surprises. The Bristal has prepared the following checklist to help caregivers ensure their loved one's move to a memory care community is as smooth as possible.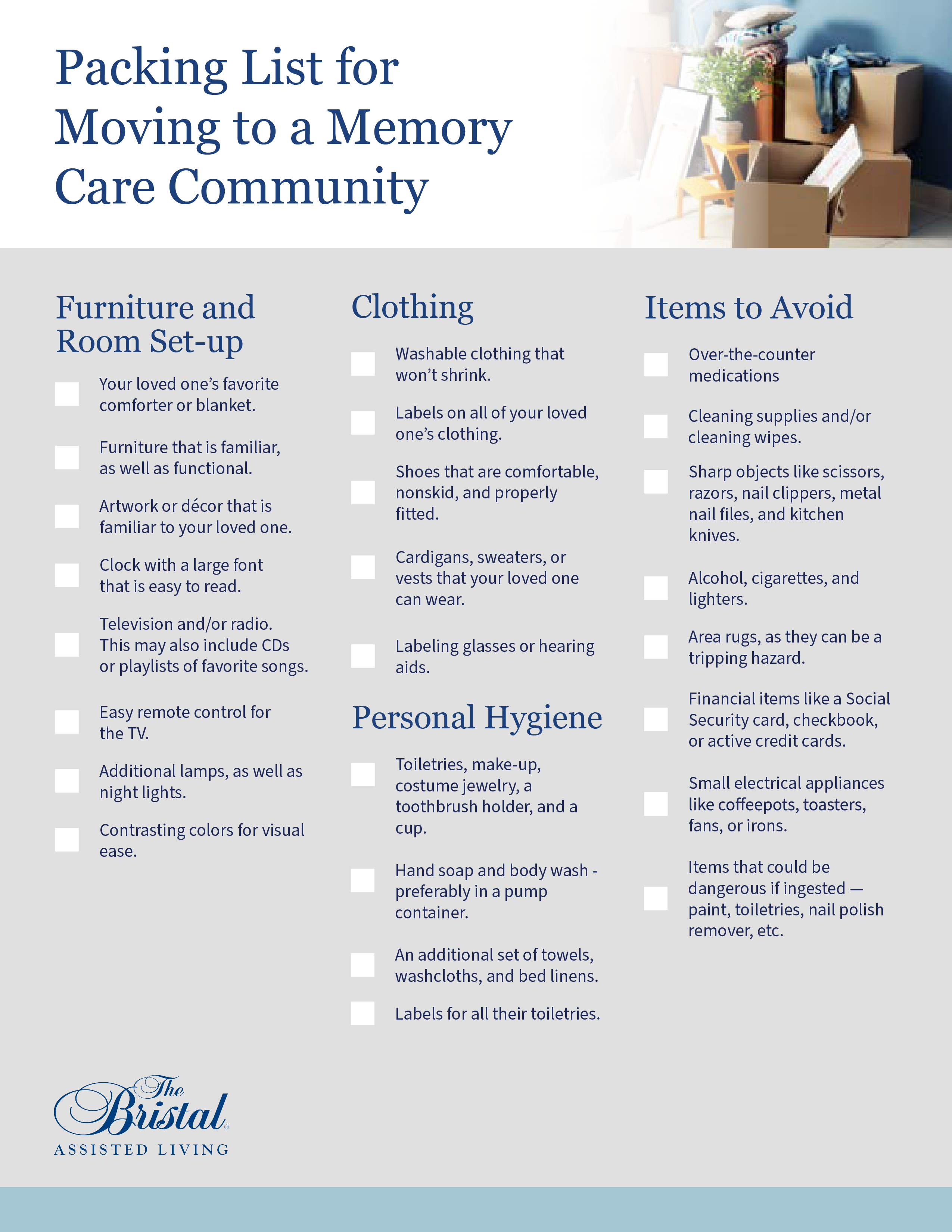 Packing List for Moving to a Memory Care Community
Since your loved one's new apartment is likely smaller than their previous accommodations, it's a good idea to check with the Director of Community Relations to ensure everything will fit. It's important to keep your loved one's preferences and abilities in mind while packing.
Furniture and Room Set-up
Remember that familiarity and functionality are key. Including items that your loved one is familiar with can help them feel more at ease, while items that are easy-to-operate can help lessen confusion and frustration. Consider the following:
Your loved one's favorite comforter or blanket. Prevent tripping by making sure the bedding doesn't hang too close to the floor.
Furniture that is familiar, as well as functional. For instance, drawers that are easy to open and close, or a bed that is easy to get in and out of, etc.
Artwork or décor that is familiar to your loved one. Favorite paintings, photos of family and friends labeled with names, and artwork from grandchildren are all good ideas.
Clock with a large font that is easy to read.
Television and/or radio. This may also include CDs or playlists of favorite songs that are restful and soothing.
Easy remote control for the TV.
Additional lamps, as well as night lights.
Contrasting colors for visual ease.
Creating an Informational Album
To help the team members at the memory care community get to know your loved one quickly, it may be helpful to create an album that includes pictures and information about them. Include their likes and dislikes, as well as fun stories that demonstrate your loved one's unique personality. Additionally, the album may also soothe your loved one while they are adjusting to a new environment.
Related: What is daily life like in a memory care community?
Clothing
While selecting garments to pack, keep your loved one's independence in mind. Choose items that are comfortable, as well as easy to put on and remove.
Washable clothing. Many memory care communities use hot water and hot dryers, so include items that are durable and won't shrink.
Labels on all of your loved one's clothing.
Shoes that are comfortable, nonskid, and properly fitted.
Cardigans, sweaters, or vests that your loved one can wear if they become chilly.
Labeling glasses or hearing aids. Consider a tether for glasses to help prevent them from getting lost.
Don't overwhelm your loved one by packing their dresser or closet with too many clothes. You may want to consider switching out clothing for each season — use a bin that can fit under their bed or in their closet.
Personal Hygiene
If you plan to pack your loved one's hairdryer, curling iron, or electric razor, check with the Director of Community Relations first for guidance on how those items are handled.
Toiletries, make-up, costume jewelry, a toothbrush holder, and a cup.
Hand soap and body wash - preferably in a pump container rather than bar soap.
An additional set of towels, washcloths, and bed linens.
Labels for all their toiletries.
Caregivers should check with the memory care community for a list of items that are not permitted, as they may pose a risk to your loved one or other residents. Following is a list of what you should not bring to memory care:
Over-the-counter medications — both topical and oral.
Cleaning supplies and/or cleaning wipes.
Sharp objects like scissors, razors, nail clippers, metal nail files, and kitchen knives.
Alcohol, cigarettes, and lighters.
Area rugs, as they can be a tripping hazard.
Financial items like a Social Security card, checkbook, or active credit cards.
Small electrical appliances like coffeepots, toasters, fans, or irons.
Items that could be dangerous if ingested — paint, toiletries, nail polish remover, etc.
More Caregiver Resources
Still looking for a memory care community for your loved one? Or maybe you're seeking strategies for communicating with a loved one in the mid-late stages of dementia.
Find more tips for caregivers in our free resource, A Caregiver's Guide to
Alzheimer's Disease and Dementia. This guide includes more than 20 pages of information to help you care for a loved one with Alzheimer's disease or dementia.