When you think of pet therapy, you might envision a Golden Retriever sitting patiently with a group of children who are practicing their reading skills, while a service animal might conjure an image of a German Shepherd helping an individual with a visual impairment.
It might surprise you that both pet therapy and service animals can also be helpful for seniors living with dementia and Alzheimer's disease. Trained animals can be a source of comfort to people experiencing cognitive decline, and service dogs can assist caregivers in supporting loved ones with dementia.
In this blog, we'll explore the benefits of pet therapy and service dogs for those with dementia and explain the process of adopting a service dog.
How Are Pet Therapy Animals and Service Dogs Used With Memory Care?
Alzheimer's disease and other forms of dementia causes progressive memory loss and decline in cognitive abilities, which is the result of damage to brain cells. Individuals with dementia may have difficulty with everyday tasks such as paying bills, planning and preparing meals, finding their way home, or keeping track of their personal belongings.

Cognitive decline is commonly associated with increased anxiety and heightened safety risks. As symptoms worsen over time, around-the-clock assistance is needed to keep your loved one safe and ensure their daily needs are met.

Whether care is provided in a private residence or a dedicated memory care setting, both pet therapy animals and service dogs can help people with dementia. We will explore the difference between pet therapy and service dogs in the next section.

Trained handlers bring pet therapy dogs or other animals for visits to memory care communities. These visits can take place one-on-one in a resident's apartment with the trainer present or in a common space where residents and staff gather together.

On the other hand, service dogs typically live full-time alongside someone with dementia and their caregiver. They are trained in specific tasks and to respond to certain behaviors or commands from their owners.

Animals in either category receive extensive training and can positively impact the emotional well-being of your loved one with dementia.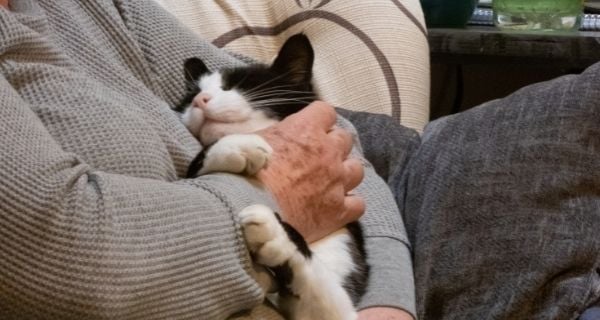 Related: Benefits of a memory care support group >>
What Are the Benefits of Pet Therapy vs. Service Dogs for People With Dementia?
Service dogs have historically been used to assist people with a variety of conditions such as blindness, diabetes, seizure disorders, or mobility issues. But service dogs are now increasingly being used to support people with mental health conditions like anxiety and depression.

Similarly, the presence of pets in memory care or other senior living environments has been found to create a more comforting, home-like environment. Unlike service dogs who work daily with the individual they have been paired with, pet therapy visits are more general in nature and typically occur at scheduled intervals.

The unconditional love, companionship, and calm temperament that dogs and other animals can provide are significant for people with dementia. Here are some additional ways your loved one can benefit from pet therapy and service animals:
Pet Therapy Benefits:
Mood. People with dementia frequently recognize pets as non-threatening, reducing agitation and increasing positive feelings.


Physical Activity. Animals, such as dogs, can also promote physical activity. A loved one with dementia may engage in playful activities or go on a short walk.


Reminiscence. Pet therapy may resonate with those who previously had pets of their own, invoking feelings of love and happiness. This interaction may even spark a conversation about a former pet.


Cognition. For those in later stages of dementia, pet therapy can stimulate cognition through touch as owners pet a cat, dog, or other furry animal.


Social Interaction. Pet therapy animals like birds, cats, and dogs make great listeners. Individuals with dementia who might feel self-conscious interacting with friends or family, typically have an easier time chatting with a canine friend or other pet. In addition, pet therapy can help decrease feelings of loneliness and promote relaxation.
Service Dog Benefits:
Safety. Alzheimer's disease raises numerous safety concerns within the home. Service dogs that have been trained to work with individuals with dementia can help to provide an additional layer of protection and support. For example, this may include alerting when the stove has been left on or preventing your loved one from exiting the home alone.


Routine. Service dogs may also be trained to assist with daily tasks like waking their owner and reminding them to get ready for the day.


Companionship. Service dogs can serve as a source of companionship for someone with dementia. Their presence and unconditional love will likely provide a higher sense of emotional well-being.


Balance. Service dogs can assist people with dementia in balance and strength activities such as climbing stairs or getting in and out of a chair or bed.


Confidence. Service dogs can increase independence and a sense of self-confidence for those with dementia. Your loved one may feel encouraged and empowered to participate in daily activities with support from their service dog.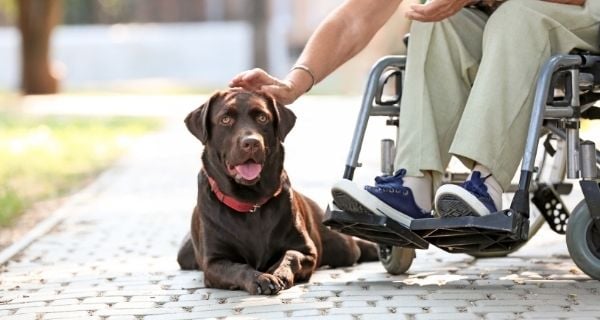 Is a Service Dog Right for Your Loved One?
The choice between a service dog and pet therapy will depend on your loved one's needs, as well as their living situation. Many memory care communities typically include pet therapy as a part of their programming. If your loved one is living at home and is in the early stages of Alzheimer's disease, a service animal might make more sense.

Service dogs can provide additional peace of mind for caregivers, in addition to companionship they provide to those they are paired with. It is important to note that in your role as a caregiver, you'll need to be willing to take on the added responsibility of ensuring the dog's needs are met along with those of your loved one.

Related: How to help loved ones in the early stages of Alzheimer's disease or dementia >>
What Is Involved in the Service Dog Adoption Process?
If you're considering finding a service dog for your loved one, you'll want to keep a few things in mind during your search:

Cost. Trained service dogs are an investment. They may range in prices of up to $17,000 or more. Many organizations provide fundraising resources to help offset the expense.


Time. You can expect to go through an application, acceptance, and training program to adopt a service dog. This process usually involves completing applications, participating in interviews, and providing referral letters. Once accepted, you may wait up to 2-3 years before being placed with a service dog.


Responsibility. Adding a service dog to your home requires full responsibility of the caregiver to provide and care for the dog. This should be a key factor when determining whether a service dog is right for you and your loved one.
Does The Bristal Offer Pet Therapy?
The Bristal partners with numerous pet therapy organizations throughout New York and New Jersey. In addition to visits from a variety of therapy dogs, residents also welcome bunnies, ponies, and miniature goats each month.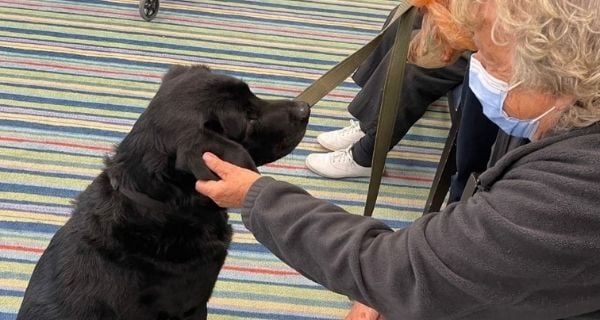 To learn more about Reflections, The Bristal's specialized memory care program, please use the link below.