Use it or lose it is likely a familiar phrase. It refers to the continuous practice of a desired activity or facing the risk of losing the ability altogether.
This is particularly relevant to the subject of walking as a means of helping seniors preserve their independence and enhance their well-being.
Residents at The Bristal Assisted Living communities engage in an active, independent lifestyle with convenient access to on-site fitness centers, swimming pools, putting greens, and more. Physical activity, exercises, and walks are encouraged and a regular part of the activities schedule.
Find our top walking safety tips for seniors in this blog, curated by our resident experience and wellness team here at The Bristal.
Top 10 Walking Safety Tips for Seniors
Walking is an important form of exercise for older adults, including those who use a cane or walker for assistance. Walking helps maintain mobility and offers potential benefits for blood circulation and heart health, joint diseases, bone density, balance, and mental acuity.
Before getting started, be sure to consult with your primary care provider for guidance on appropriate physical activity recommendations.
Here are tips to consider for general safety and comfort:
1. Warm up and cool down.
Regardless of how fast you intend to walk, begin each walk at a casual pace to get the blood flowing to your muscles and joints. End the walk by gradually slowing your pace over a few minutes.
You can also try some basic stretches before and after your walk to help decrease your risk of injury or sore muscles. Consider using a chair to maintain your balance while stretching.
2. Think carefully about intended routes.
Plan ahead. Consider the terrain you'll encounter on your walk — will it be in an indoor, rural, or urban setting? Try to minimize encounters with broken pavement, construction hazards, congested sidewalks, and busy intersections. You may also wish to avoid steep inclines or wet surfaces.
Related: Why exercise really is worth it — and how to get started >>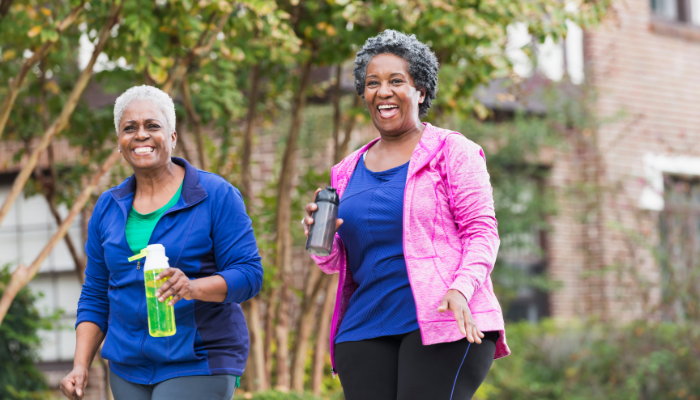 3. Wear brightly colored clothing.
Wear bright, loose-fitting clothes that are appropriate for an extended walk outdoors. Consider dressing in layers, which is a tactic that can be useful when weather conditions are variable. It's also helpful to wear reflective material to ensure everyone can see you.
4. Choose appropriate footwear.
Select walking shoes with good arch support and non-skid soles. Talk to your primary care provider if you have foot problems that may require orthopedic shoes.
Related: Ten state parks on Long Island worth exploring >>
5. Air quality counts.
When walking outside, be alert to weather advisories about poor air quality, especially if you have asthma or other breathing disorders. Consider postponing or shortening walks on days with high air pollution — or move your workout indoors.

6. Don't forget water.
Staying hydrated is always essential, especially in warmer weather, when you're likely to sweat more. Bring water or other low-calorie liquids with you on walks, even when walking inside.
7. Use a cane or a walker.
Don't let the need for a walking aid prevent you from hitting the trail (providing that your doctor agrees). Make sure you follow an appropriate distance and go at a comfortable pace. Ensure your cane or walker is the right height to maximize safety and comfort, and consider using one that includes a seat so you can rest along the way.
Related: Mobility and Parkinson's disease >>
8. Remain aware of your surroundings.
Chatting or listening to music is common when walking with a companion. While that can make walking more enjoyable, remain aware of potential hazards, such as potholes, patches of ice, traffic, or uneven terrain. Be especially alert when stepping off a curb, where a misstep can result in a sprained or broken ankle.
9. Bring your cell phone.
Whether you're walking indoors or outside, take a cell phone with you in case of an emergency or if you need to contact someone to give you a ride back home.
Related: Simple exercises to improve balance for older adults >>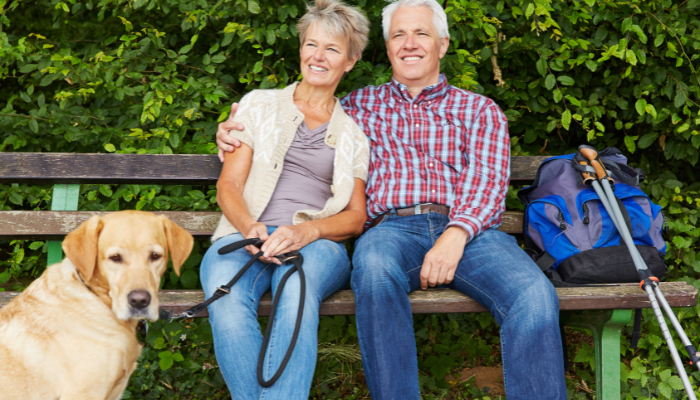 10. Pace yourself.
It's important to pace yourself when walking. If you encounter pain or severe discomfort, stop and rest. If it persists, notify your primary care provider.
Many seniors make their exercise routine a social occasion by joining walking clubs sponsored by community senior centers. If you'd like to start your own walking club, this American Heart Association resource can help you create a successful program.
Benefits of Walking for Seniors
Walking is an accessible, low-impact form of exercise that offers numerous benefits that include:
Improves sleep

Supports your joints

Strengthens muscles

Helps you lose weight

Boosts your mood

Slows mental decline

Prolongs independence

Lowers risk of dementia

Reduces the risk of fractures

Lowers blood pressure
These combined benefits offer a better quality of life for older adults.
Additional Lifestyle Articles
The Bristal's blog features several articles on wellness. You can learn easy, low-impact exercises for seniors, steps to healthy aging, and tips for virtual doctor visits.
This blog was originally published in November 2018. It was updated in October 2023.