Transitioning to an assisted living community is a big step that can feel overwhelming, especially right before the big move.
However, the key to preparing for a successful and efficient move is breaking the process down into smaller, more manageable steps, prioritizing the most important steps first and working your way down the list of to-dos.
By doing this, you can plan a smooth, stress-free move into your new home.
Priority No. 1 - Set Date(s) and Make Arrangements
If you and/or your loved one are still exploring options for assisted living, these questions could come in handy as you continue your search. If you have already settled on a specific community and reserved your apartment there, then it's time to start setting dates and making arrangements.
Related: Step by Step: What Questions Should I Ask About Assisted Living for My Loved One? >>
Set Moving Date(s)
Work with the community you have selected to pinpoint a date when you can start moving your loved one's belongings into their new apartment or home. Putting this date in place sooner, rather than later, is beneficial because all of your other pre-move planning will hinge on the moving date(s).
If your loved one has been placed on a waiting list, setting a move-in date can be more challenging. Communicate early and often with your representative from the community to get regular updates on availability and when you may expect to move in.
Arrange for Moving Services or Additional Help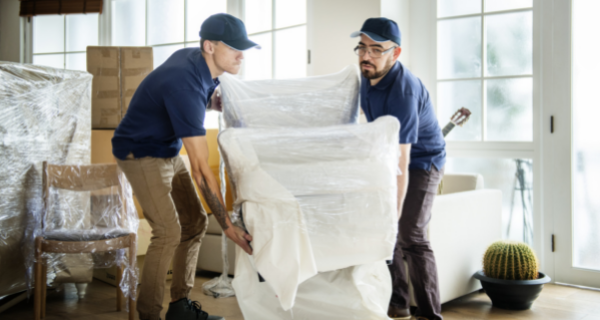 There are many moving services available for helping you and your loved one pack and/or move, including several that specialize in relocating seniors. You can use various resources to find move managers in your local area that are certified in senior move management.
Once you have your move-in date, contact the moving company or service you have selected as soon as possible to reserve your spot.
Alternatively, if you aren't interested in hiring extra help for the move, you can reach out to friends and/or family members and inquire about their availability to help with the move. The more people involved, the more schedules you will have to coordinate, so be sure to ask early on what date(s) they may be available to help.
Select Health Care Providers
If your loved one will be relocating to a different city or state, they may not be able to continue using the same health care providers or physicians. In this case, do some research on the health care providers that will be available to them in their new location ― read online reviews, check what kind of health insurance they will accept, and compare estimated costs. Many assisted living communities have trusted outside doctors that will come see residents on-site as an added convenience. Ask the representative at the community you have chosen for information regarding potentially utilizing a visiting physician.

You can use this tool from the Medicare.gov website to find and compare health care providers based on your geographic area.

Once you decide on new health care providers for your loved one, be sure to facilitate the transferring of your loved one's medical records from their old provider(s) to their new provider(s) and set up any initial appointments they will need. Simply call the doctor's office or provider, and they can guide you through this process.
Priority No. 2 - Logistics and Packing
Now that you've got pre-planning taken care of, it's time to focus on logistics ― how to physically move your loved one's life from Point A to Point B. This will likely involve going through your loved one's belongings, downsizing, and packing up everything that will be going to their new home.
Go Through Belongings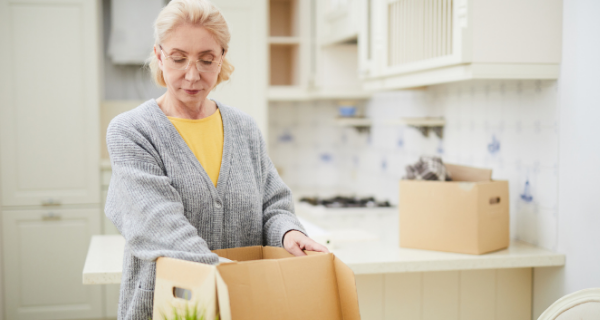 The best advice for this process is to take one step at a time. Going through a lifetime's worth of possessions is a big job, but it's much more manageable if you break it down into smaller steps, such as:
Make a plan. Put together an outline for how you want to go through everything. You can schedule a few hours each day or a few days each week to dedicate to this task. Keep your move-in date in mind and schedule your time accordingly.
Go through one room (or space) at a time. Start small, perhaps with a closet or small bedroom, and then work your way up to rooms like the kitchen and the living room. Finish one room or space completely before moving on to the next.
Sort and organize items. Group items together based on what you will be doing with them, and keep each group in a separate place. For example, put items that will be sold or donated in one spot, all together, and put items that will be given to family members in another room or space. It can also help to label each item or group of items as you go.
Related: Tips for Decluttering and Downsizing >>
If you don't have the time or means to go through belongings on your own, you can enlist the help of a downsizing specialist or service.
Downsize
More than likely, your loved one's new residence will be smaller than their current home. If so, some downsizing will likely be required before the move. For the items you decide not to keep, there are several options you can consider, such as:
Give them to friends or family members
Donate them to charities
Sell them (estate sales, antique shops, online, etc.)
If you're looking to sell items online, check out these handy tips from AARP that can show you how to list and sell on websites like eBay, Mercari, and more.

Pack
You may choose to go through belongings and pack them simultaneously, which is a great way to save time, or packing may be the last thing you do before moving. Either way, staying organized is the key to success.
As you pack, it's important to label each box or container, particularly if other people or a moving service will be helping with the move. One idea is to label everything according to the room it belongs in, such as "kitchen" or "living room." Thorough labeling will make the process of moving and unpacking go much smoother.
Related: Packing List: What to Bring With You For a Move to an Assisted Living Community >>
Priority No. 3 - Adopt the Right Mindset
Now that your plans are set and your logistical needs are met, it's time to look inward and mentally prepare for the move. Transitioning to assisted living will hold many changes for both you and your loved one ― a positive mindset can make the move much easier for you both.
In the weeks or days leading up to the move, keep reminding yourself (and your loved one) of all the good that will come from the move, such as:
Less worry and stress
Help that is available when needed
More activities
New friends
Related: 6 Ways to Make it Easier to Transition to Assisted Living >>
Explore More Assisted Living Resources
If you found this guide helpful, be sure to explore more of our resources on transitioning to assisted living.