Moving and downsizing can be major life events. Whether you are moving across town, across the country, or to an assisted living community — excitement, anticipation, frustration, and worry are to be expected.
Seniors planning to transition to an assisted living community oftentimes spend the months and weeks before their move downsizing, organizing their belongings, deciding what to pack, and preparing to sell their homes, which can add an additional layer of stress.
Keep in mind that there are plenty of organizations that can assist you with downsizing, packing, and organizing your belongings. Don't hesitate to contact an expert, like a senior move manager or a professional organizer. The Director of Community Relations at any assisted living community, such as The Bristal, can also be a great resource — they can provide you with a list of trusted professionals in your area.
While many items are provided for you at an assisted living community, there are a few key things that many new residents forget to pack. Remember that your new residence is likely to be smaller than your current one. To make the process easier for seniors and their families, The Bristal has developed the following suggested packing list for assisted living.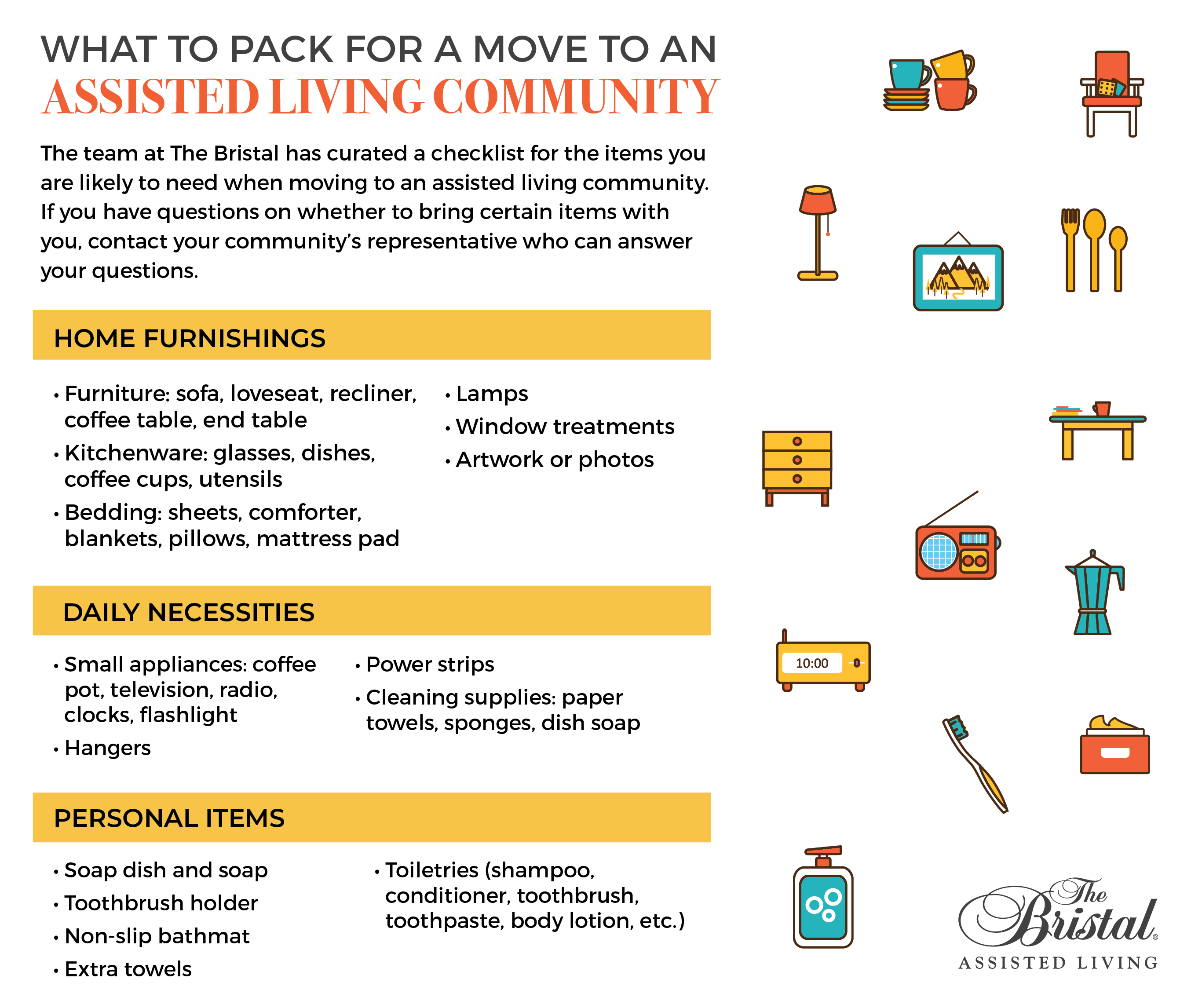 Packing List for Assisted Living
If you have questions regarding what items will fit, contact the Director of Community Relations, who is ready to help you. When packing, we recommend referring to your list and creating an inventory of your items based on the rooms you will have in your new space.
To simplify your packing list, we've divided it into four categories:
1. Kitchenette Items
Glassware (service for 4)
Dishware (service for 4)
Utensils (service for 4)
Coffee cups (service for 4)
Coffee pot (must be Underwriter's Laboratory "UL" approved. You can find this approval on a tag on the cord of the appliance)
Power strips
Paper towels
Sponges
Dish soap
General pantry staples
2. Bathroom Necessities
Soap dish
Soap
Toothbrush holder
Bathroom cup
Bathmat
Extra towels
Toiletries (shampoo, conditioner, toothbrush, toothpaste, body lotion, etc.)
3. Bedroom Items
Hangers
Reading lamp
Extra pillow and blankets
Mattress pad
4. Miscellaneous Objects
Television
Radio
Window treatments (mini-blinds are provided)
Furniture
Artwork and family photos
Lamps
Nightlight
Batteries
Clock
Flashlight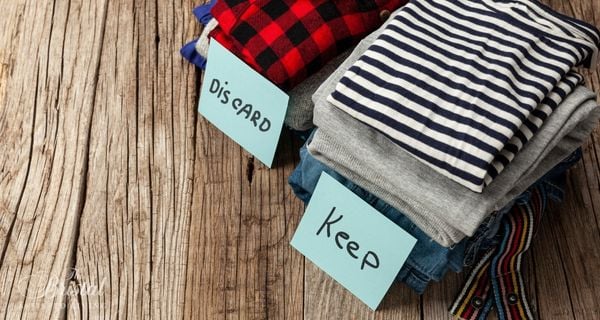 What NOT to Pack for a Move to Assisted Living
For many residents moving into an assisted living community, it can be difficult to decide what to keep and what to let go. There are some items that we suggest you put at the top of your "leave behind" list.
Items you should consider gifting, donating, or selling before you move include:
Large, unwieldy furniture items

Throw rugs or area rugs, which can be a slipping or tripping hazard

Sprawling collections that take up a lot of space, like excessive stores of pantry staples

Belongings that are currently in storage because they are rarely used
Remember that if you have any questions about what to pack for your new home, the staff will be more than happy to advise you. Reach out well before your arrival with any questions you may have.
More to Explore in Assisted Living
Discover more about assisted living options here at The Bristal. Learn how to make it easier to transition to assisted living, get answers about assisted living costs, find tips for choosing the right community, and more.