When your loved one has Alzheimer's disease or another form of dementia, keeping them safe is your top priority. Keeping loved ones with dementia safe not only helps to prevent injuries, but helps them feel relaxed, not as overwhelmed, and able to stay independent longer.
Reflections Memory Care at The Bristal Assisted Living focuses on creating a safe environment that provides specialized, individualized programming and care. We encourage residents to be as independent as possible and remain engaged in activities that interest them.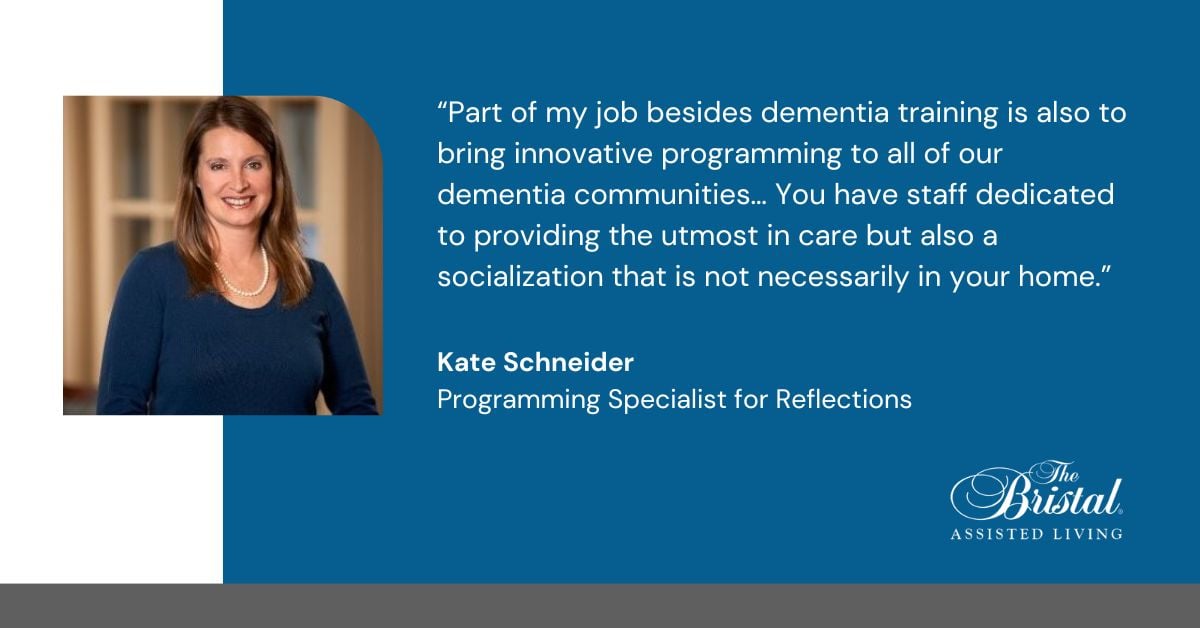 Ensuring Safety and Security at Reflections Memory Care
At Reflections at The Bristal, we're serious about residents' safety, security, and comfort. Kate Schneider, MS CTRS CADDCT and Programming Specialist for Reflections, has worked at The Bristal since the first community opened in 2000.
"Each one of our communities has a specialized memory care within it," said Schneider. "It offers the same amenities as the entire building, but it's just an easier way to navigate."
Here are some of the ways we ensure residents experience consistent and safe surroundings:
Residents wear WanderGuard bracelets, which allow them access to specific areas of the community.
Pull cords in all bathrooms, bedrooms, and showers can immediately alert staff members if pulled.
Bright, natural lighting and consistent floor coverings help residents find their way.
Individual care plans for each resident make sure staff members get to know them closely and help them adjust to Reflections.
In addition, Reflections staff members are trained in dementia care and participate in our Hands-On & Hearts-In® training program. This approach shows them the cognitive and physical challenges people with dementia face, which in turn helps them provide better care to residents.
"Part of my job besides dementia training is also to bring innovative programming to all of our dementia communities," said Schneider. "You have staff dedicated to providing the utmost in care but also a socialization that is not necessarily in your home."
Related: When should I look for memory care for my loved one? >>
Experiencing Daily Life at Reflections
Residents of Reflections participate in a variety of activities each day, from group games that encourage cognitive stimulation to special events like movies, bingo, dances, comedy nights, and more. These recreational opportunities help residents remain active, engaged, and involved in the world around them.
"It becomes like a family atmosphere, where each one of the residents supports and cares for each other — so I think that's the beautiful thing about it," said Schneider. "It's an environment that we foster because this is their home."
Reflections dining rooms offer comfortable seating at four-tops, which helps encourage socialization. Different types of therapeutic music are played at each meal. And staff can assist with food choices and eating, although independence is encouraged.
Residents can enjoy quiet rooms with water features, gliders, aromatherapy, music, and other soothing activities. Enclosed courtyards allow residents to enjoy the outdoors safely whenever they'd like.
Residents also have the opportunity to attend supervised outings. Trips are planned to carefully-selected venues to help ensure the comfort of those who wish to join. Reflections staff members always accompany the residents, bring necessary supplies like boxed lunches and drinks, and are present throughout the outings.
Residents who don't wish to exit the bus also have the option to take part in scenic rides around the local areas. The Director of Recreation regularly plans trips to see local beaches, parks and preserves, historic homes, light displays during the holidays, and so much more.
Related: See more of the dementia therapies we use at Reflections >>
Encouraging Family Participation and Engagement
At The Bristal, care is a whole-person approach. That's why we keep family members informed of their loved one's health and activities, and we welcome — and encourage — them to visit as often as they'd like.
Family members may visit Reflections at any time, without announcement, day or night. Living at The Bristal is just like living at home. There are no rules about when family can stop by for a visit with their loved one.
"There are many beautiful public and private common areas for the families to visit," said Schneider. "Residents can host visitors in their apartment, or enjoy any one of the common areas. Parties can be arranged in the private dining room or country kitchens with a prior reservation."
With recreational activities going on, visitors can either participate privately in an activity with their loved one, or join the group.
And just as they would at home, Reflections residents are free to leave the community with their families, whether it's for a special meal, shopping trip, family celebration, or holiday. All residents are asked to sign out at the reception desk with an expected return time so staff members know who is in the building.
Related: How games can help people with dementia >>
Requesting Your Free Caregiver Resource Guide
Are you caring for a loved one with Alzheimer's disease or another form of dementia? Download your free caregiver resource guide to find more than 20 pages of information to help you with challenges in your caregiving role.