Well-researched for over four decades, the Mediterranean diet appears to offer numerous health benefits. Lower rates of heart disease and high blood pressure, as well as a decreased risk for certain types of cancers have all been tied to the diet. There is also evidence that the Mediterranean diet may slow cognitive decline, and help prevent type 2 diabetes. Rich in omega-3 fatty acids, the Mediterranean diet has been shown to reduce the symptoms associated with inflammatory diseases like Rheumatoid Arthritis in some individuals.
What is the Mediterranean Diet?
Based on the eating patterns of individuals living along the Mediterranean Sea – Greece, Italy, France, and Spain – the Mediterranean diet did not become popular in the United States until the 1990s. Because each country has its own distinct way of preparing its food, the Mediterranean diet really is a misnomer – it is more a healthy style of eating than a diet. In addition to fresh fruits and vegetables, as well as healthy fats and lean proteins, the "diet" also encourages daily exercise, and socializing with friends and family.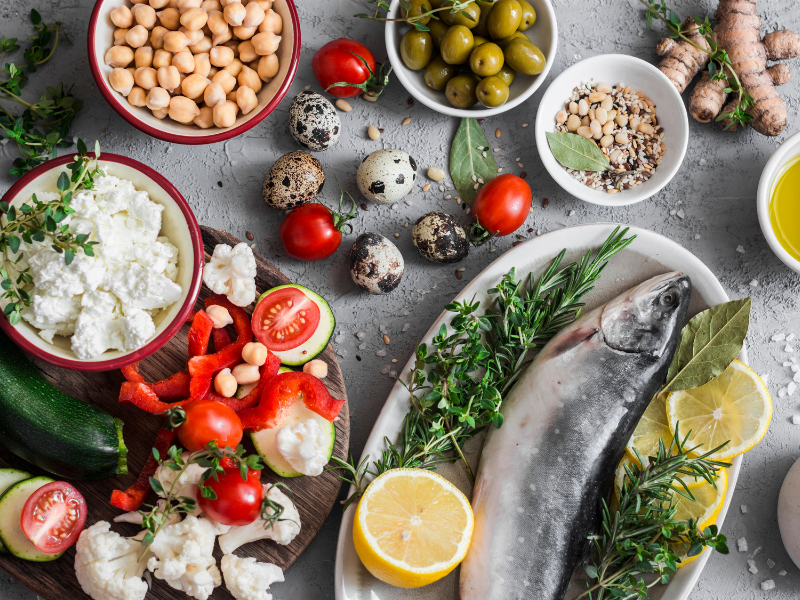 The Mediterranean diet includes plenty of fresh fruits, vegetables, and lean proteins.
Foods You Can Enjoy on the Mediterranean Diet
The Mediterranean diet focuses on eating whole foods, with an emphasis on fruits, vegetables, lean proteins, and healthy fats. Foods that should make a regular appearance on your plate include:
Vegetables (carrots, broccoli, spinach, kale, potatoes, etc.)
Fresh Fruit (berries, apples, bananas, oranges, grapes, etc.)
Whole Grains (whole grain breads and pasta, oats, quinoa, farro, etc.)
Legumes (lentils, beans, chickpeas, etc.)
Nuts and Seeds (almonds, walnuts, pumpkin seeds, sunflower seeds, etc.)
Herbs and Spices
Fish and Shellfish (salmon, mackerel, trout, shrimp, etc.)
Poultry (chicken, turkey, and duck)
Dairy (cheese, Greek yogurt, eggs)
Healthy Fats (olive oil)
Red Wine (in moderation!)
Foods You Should Limit
While no food, or food group is banned, the Mediterranean diet recommends that you limit your intake of the following foods:

Red Meat
Refined or processed foods
Trans fats and refined oils
Sugar-sweetened beverages
What are the Health Benefits of the Mediterranean Diet?
Interest in the health benefits of this style of eating dates back to the 1950s. American scientist Dr. Ancel Keys observed that people living in countries along the Mediterranean Sea had lower incidences of heart disease, despite eating diets higher in fats. Since then, there have been countless studies researching the benefits of the Mediterranean diet. They include:
Heart Health
Numerous studies have suggested that the diet may be good for your heart. Data from one long-term study linked the Mediterranean diet to a lower risk of heart-related events. The study followed a large group of individuals with risk factors for cardiovascular disease, including type 2 diabetes, over a five-year period. Those who adopted a Mediterranean style of eating decreased their risk of cardiovascular disease by 30 percent. Experts believe the Mediterranean diet's heart health benefits may be tied to an increased consumption of olive oil and dietary fibers, as well as lower amounts of saturated fats.
Brain Health
In addition to being good for your heart, studies suggest that the Mediterranean diet may also benefit your brain. Several studies have shown a connection between following the Mediterranean diet and slowing cognitive decline. While additional studies are needed to confirm whether this style of eating offers neuroprotective benefits, there is a diet recommended by experts to help slow cognitive decline: the MIND diet. A combination of both the Mediterranean and DASH diets, the goal of the MIND diet is to reduce dementia and age-related cognitive decline.
Learn more about the MIND diet >>
Reduced Inflammation
Left unchecked, chronic inflammation can seriously impact your health. Cancer, heart disease, rheumatoid arthritis, type 2 diabetes, and asthma are just some of the diseases linked to chronic inflammation. Rich in omega-3 fatty acids, which have been shown to reduce inflammation, the Mediterranean diet may prove beneficial for individuals who suffer from chronic diseases. Specifically, adding cold-water fish like salmon, tuna and sardines to your diet twice per week can lower levels of two key inflammatory proteins in your body. With its heavy emphasis on fresh fruits, vegetables, and whole grains, the Mediterranean diet has also been linked to lower rates of certain types of cancer, including breast and colorectal cancers.
Adopting a Mediterranean style of eating is not complicated, and as research has suggested, can offer numerous health benefits. As always, check with your doctor before making changes to your regular diet or exercise routine.
---
More Lifestyle Ideas From The Bristal
For additional lifestyle tips and resources, visit The Bristal's blog.