With grocery stores, restaurants, and markets that cater to every taste and dietary need, plus a wealth of online services, there are more food options available today than ever before.
One trend that's taken off recently keeps it simple - eating minimally processed real food. Think fresh fruits and veggies, simple proteins, and whole grains
What is a real-food eating pattern?
While many diets attempt to restrict certain food groups - such as carbohydrates or fats - a real-food eating pattern is less a diet than a framework for a lifelong pattern of healthy eating.

Real food includes options from the following groups (allowing, of course, for allergies, intolerances, and preferences):
Fruits
Vegetables
Beans
Whole grains
Nuts
Dairy
Eggs
Poultry
Meat
Fish
Nuts
Seeds
Focusing on these nutrient-dense food groups is a simple framework for eating a healthy diet.
Why is eating real food healthy?
Physical health benefits
Real foods include the building blocks of good nutrition - like vitamins, minerals, healthy fats, and protein.

According to the USDA's Dietary Guidelines for Americans, older adults need to focus especially on consuming protein, vitamin B12, and increased fluids. By incorporating some of the foods from the key real food groups, you can boost your intake in these areas.

Eating well can also bring the following positive health benefits:
Lower risk of cardiovascular disease
Lower total and LDL cholesterol
Lower blood pressure
Lower risk of obesity
Lower body mass index, waist circumference, and body fat
Lower risk of type 2 diabetes
Lower risk of cancers of the breast, colon, and rectum
Favorable bone health, including lower risk of hip fracture
Related: Health benefits of vitamin D >>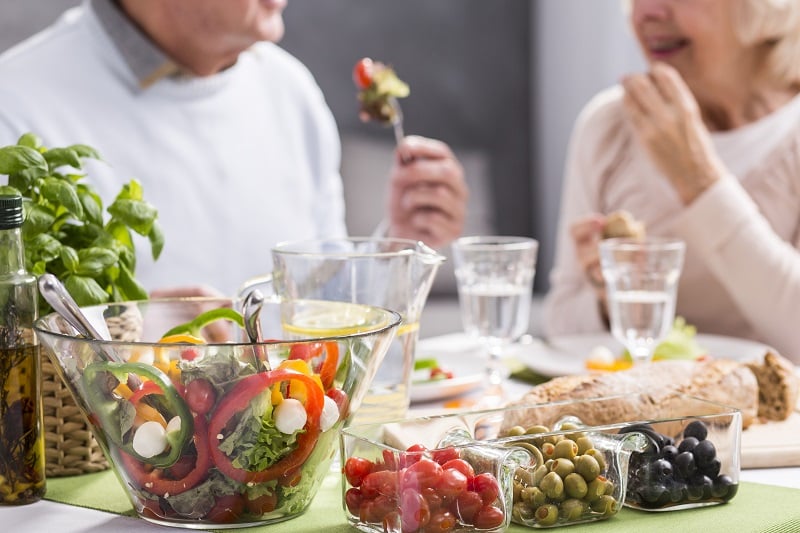 Mental Health Benefits
Eating high-quality foods can have benefits that go beyond your physical health. Harvard Health compared a person's diet to putting fuel in a car. A high-performance car needs fuel to match. If you put low-grade fuel into a sports car, its performance will suffer.

The same is true for your brain and what you eat. When the food you consume is of higher quality, your brain can work better to stay focused and even fight depression. Eating a healthy diet may also be beneficial in preventing cognitive diseases such as Alzheimer's.

Related: Try the MIND diet for better cognitive health >>
Healthy Eating at The Bristal
At The Bristal Assisted Living, we're passionate about ensuring our residents have access to the highest-quality meals prepared with real foods. Read about a few of our dining initiatives below
Farm-to-Table Options
Produce, meat, and seafood from the tri-state area often make an appearance on our menus. These items are locally sourced, which means they're fresher (and often tastier) than those that have been shipped over long distances
SmartChoice Options
The chefs at The Bristal present our residents with more nutritionally-conscious choices by creating recipes focusing on foods that promote healthy brain function and improve cognitive ability.

At The Bristal, you'll also find heart-healthy, sugar-free, and no-salt-added options available in each of our communities.
Our Registered Dietician
Alaina Hoschke is the registered dietician serving The Bristal. Hoschke assists with menu planning for regular and modified diets throughout The Bristal communities, as well as planning ongoing education for staff and residents.

She also created The Bristal's Taste of the Season program, which encourages residents and staff alike to try new and interesting ingredients all year long.
Chef-Prepared Dishes at The Bristal
Our Chef's Table blog series highlights some of the chefs in our communities and their favorite dishes. From Nashville hot chicken to spaghetti squash, check out a few of the delicious options we're serving up each day.