The holidays are a joyful time, full of laughter, loved ones, family, and friends.
However, the holiday season can sometimes bring additional stress if you're caring for a family member with Alzheimer's or another form of dementia. You may ask questions like:

How will I ensure my loved one can enjoy the holidays like they used to?
Will my siblings understand that I can't take on everything this year?
Will we be able to incorporate our usual holiday traditions this year?
Keep things simple during the holidays if your plate is full of caregiving responsibilities. Don't be afraid to reach out to other family members to discuss how celebrations should look so everyone involved can enjoy a safe and stress-free holiday.

Simplify Holiday Traditions
First, take a deep breath and remind yourself that you don't have to do everything yourself. Not only is it unnecessary, but you also run the risk of wearing yourself out – which may leave you with less energy to care for your loved one.
If you typically host a family gathering, you might ask another family member to assume this responsibility, reduce the number of guests, or consider hosting a virtual gathering this year. Forgo the holiday turkey and dozens of sides in favor of easier recipes, or order some items pre-prepared.
Have a frank discussion with your family members about what you can handle, and more importantly, what you are comfortable with.
Let them know that holiday traditions are important, but things may need to be different this year than in years past. Be direct, and tell them how they can help to make this year's celebrations easier and less stressful for everyone.
Remember that sometimes the simplest celebrations can be the most memorable. Think about what you enjoy most this time of year and focus on those specific things.
How to Help Loved Ones with Dementia Enjoy the Holidays
As you look for ways to include your loved one with dementia in holiday events, consider their current abilities and comfort level. If possible, ask them what they want to do for the holidays. If their dementia has progressed, think about how well they can participate in activities and adjust accordingly.
Involving Loved Ones in Holiday Preparations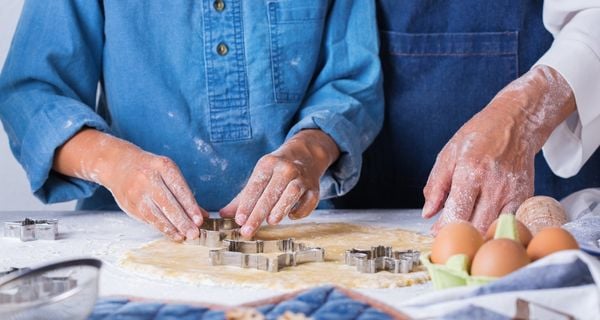 Your loved one may be able to help you with simple tasks like cooking or wrapping gifts. If that would be too difficult, just letting them watch you do these things may be soothing.
Incorporate some of their holiday traditions, too. Prepare a special food, put on a favorite song, or take time to look at old photos with them. These small things can make the holidays more meaningful for them.
Holiday Safety for People With Dementia
Look at the holidays from your loved one's point of view. Keep distractions like bright lights, loud noises, and crowds to a minimum. Many people with Alzheimer's are afraid of or confused by blinking lights, so try to tone down your home decor. Also, don't leave out decorations that may be mistaken for food, like faux fruit or bowls of potpourri.
Preparing Guests to Visit a Loved One With Dementia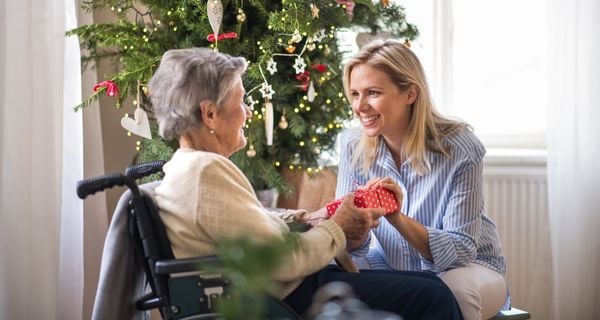 If you will be hosting guests, set expectations and limits for the duration of their visit. Make visitors aware of your loved one's dementia, especially if what they can expect has changed since their last visit. For example, prepare them in case your loved one might not remember them or may be more confused than usual about their presence.
If your visitors bring gifts, encourage them to bring items that will be safe and useful for your loved one, like soft clothes, blankets, or a favorite snack.
As you go about the holiday season, make sure to check in regularly and assess how your loved one is doing. Take breaks if they need some time to decompress.
Related: Essential winter safety tips for seniors >>
Tips for Celebrating the Holidays in a Senior Living Community
If your loved one with Alzheimer's resides in a senior living community, you can still make the holidays special for them. Plan a visit with an appropriate number of family members. Consider trying one of the following:
Bring a food or beverage to share, if permitted
Decorate their room with a few holiday items
Make or buy cards to read aloud and display
As with any celebration, be realistic about how your loved one might react. If you sense they're getting frustrated or tired, it's OK to cut the visit short.
No matter how the holidays go this year, know that any feelings of guilt or stress you may have are completely normal. Remember that even if your celebrations look a little different, your loved one will still appreciate the gestures.

Free Caregiver Resource Guide
Find more tips for caregivers in our free resource, A Caregiver's Guide to Alzheimer's Disease and Dementia. This guide includes more than 20 pages of information to help you care for a loved one with Alzheimer's disease or dementia.